According to the Cancer Alliance, asbestos is present in around 80 percent of homes built before 1980. It is frequently found in floor and ceiling tiles, roof shingles and flashing, siding, insulation, pipe cement, and joint compound.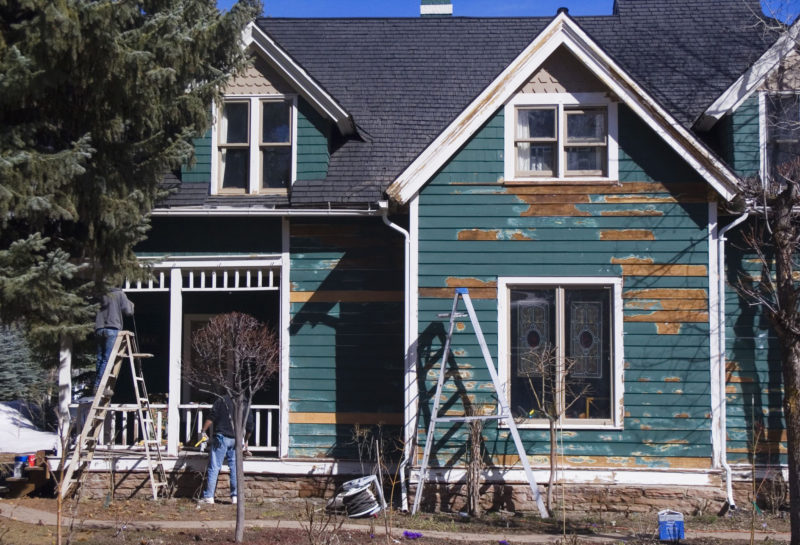 Asbestos refers to six microscopic fibrous minerals which are very durable and fire resistant. These naturally occurring minerals are:
actinolite
amosite
anthophyllite
chrysotile
crocidolite
tremolite
The most common forms of asbestos are amosite and chrysotile. Prior to 1980, asbestos was used in the manufacture of a variety of products including floor and ceiling tiles, textile products, cement compounds and auto parts. These days its use is strictly regulated because exposure to this material is dangerous.
Dangers of Asbestos Exposure
It is now known that exposure to asbestos can result in a fatal form of cancer known as pleural mesothelioma. This disease affects the lining of the lungs. Asbestos may also cause other forms of cancer and lung-related disease.
Who is vulnerable to asbestos exposure?
People who have come into contact with asbestos at work. This is the most common cause of pleural mesothelioma. Prior to 1980 it frequently happened to blue collar workers in industries such as shipbuilding, power plants, and construction.
Family members of people in asbestos occupations. This is the second most common cause of pleural mesothelioma. Asbestos workers frequently brought home fibers on their clothes each night. When their family members shook out the clothes to get rid of the dust, they unwittingly exposed themselves and others to the toxic substance.
Environmental exposure to asbestos. This can be caused by exposure to asbestos in the home or exposure to naturally occurring asbestos deposits such as those found in Montana and California.
Asbestos Regulations
Although the use of asbestos is not prohibited in the united States, it is strictly regulated by the Environmental Protection Agency (EPA). It can only be used in the manufacture of products which have historically contained the mineral and only then if these products cannot be made without an adequate substitute. No new uses for asbestos are permitted. The small amount of asbestos that is used today goes to the manufacture of products that need to be heat resistant or fireproof, such as protective clothing, brake linings, and pipe insulation.
How to Remove Asbestos Safely From Your Home
Although there are not Federal regulations preventing you from doing it yourself, if you have asbestos materials in your home and you wish them to be removed, it is highly recommended that you use a licensed asbestos removal company. Here is some advice for getting rid of asbestos safely.
DIY Asbestos Removal
If you're going to perform DIY asbestos removal yourself, you must take extreme precautions. Asbestos removal is a complicated procedure and can be very dangerous. It is much better to get a professional to do it because they will also dispose of it safely in accordance with EPA regulations. If you must do it yourself, follow these safety instructions.
Clear the area completely: To avoid contamination, remove all furnishings and textiles. If there are things in the room that you absolutely can't remove, cover them with plastic sheeting and make sure it's taped down. Cover walls and floors with plastic sheeting. Set up an air lock between the removal area and the living area.
Protect yourself: Wear a disposable coverall and a respirator that is specifically designed for asbestos removal. Wear goggles and disposable rubber gloves the whole time you are in the contaminated area. Remove all gear within the airlock to prevent the spread of asbestos.
Practice safe removal: Remove asbestos materials whole whenever possible do not tear or break sheets. Have plenty of asbestos disposal bags on hand. Never handle asbestos with your bare hands. Keep the floor damp to prevent dust from rising.
Cleanup process: Place each piece of asbestos material in a separate bag. Double bag and seal all asbestos debris. Wash down all surfaces with a damp rag, don't sweep or vacuum. Dispose of each rag separately after use. Do not reuse rags. After cleanup, bag disposal clothes. Wash your hands and face and shower thoroughly.
When it comes to safely disposing of your asbestos materials, you must follow Federal regulations. Asbestos waste may only be disposed of at EPA approved sites which are licensed to handle it. To find out where the closest one to you is, you can call your state EPA office for a list.
Jayden Welch is a building inspector who likes to keep people safer in their homes and workplaces. She also enjoys posting her insights on many business and homeowner websites.
The following two tabs change content below.
Anne is a 30-something full-time SAHM mom of 5 ranging from 3 to 17 and grandma of 1 who resides in Ashwaubenon (Green Bay) Wisconsin. She started blogging in 2008 as a way to regain her sanity. She enjoys coffee, chocolate, cheeseburgers and vodka along with spending time with her husband and kids.