Just in time for Arrow's fourth season on The CW, viewers can catch up with the action-packed series as Warner Bros. Home Entertainment and DC Entertainment release Arrow: The Complete Third Season
on Blu-ray.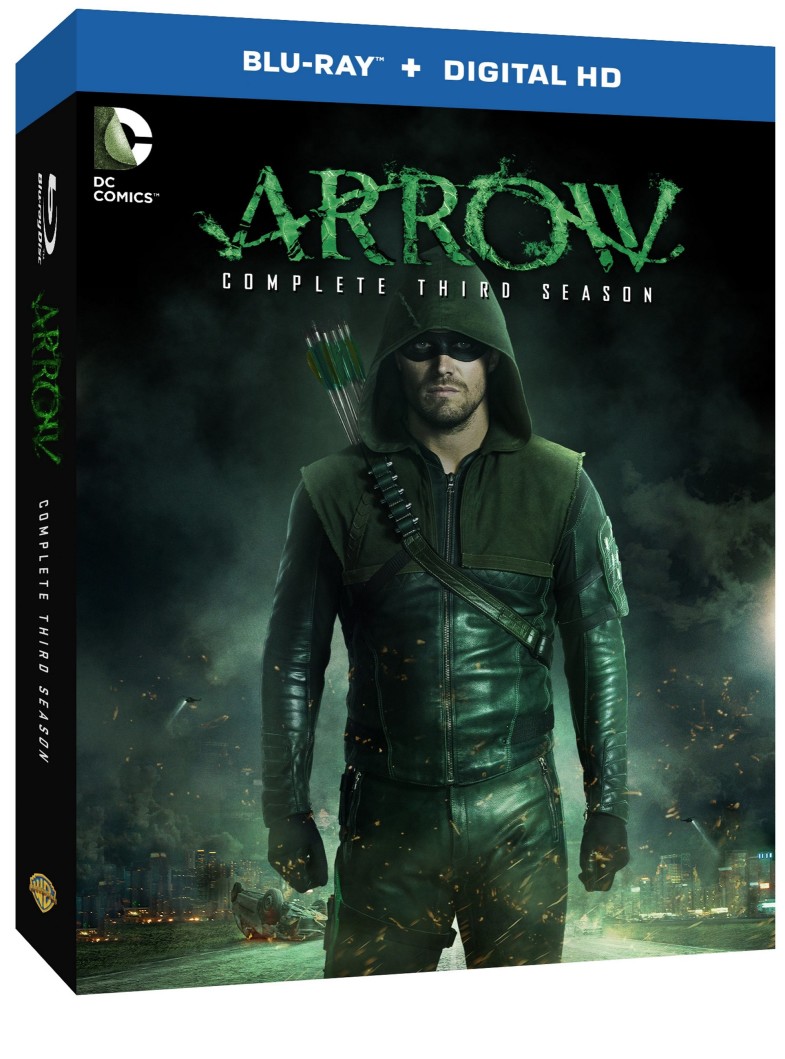 Averaging 4.2 million viewers weekly for each original episode, Arrow is The CW's #2 show among Total Viewers, behind only The Flash! The release contains all 23 thrilling episodes from the third season that will have you on the edge of your seat, plus almost three hours of extra content, including episode commentaries, featurettes, deleted scenes, and a gag reel.
Oliver Queen's Arrow has become a hero to the citizens of Starling City – but he will quickly discover that doesn't mean he can lead a normal life in the spectacular third season of the hit series based on the DC Comics character. A new wave of diabolical masterminds – including the insidious and pervasive havoc wrought by the lethal and secretive League of Assassins – threatens all he holds dear. Team Arrow has grown into a powerful force, but the dangers and secrets that bind them together often put them at odds with each other, as the shadows cast by Malcolm Merlyn and the omnipotent Ra's al Ghul trigger shifts in loyalties and alliances that test them to their core. For matchless heroism under fire, this action-packed 5-disc, 23-episode Season Three can't be beaten!
Again, this is a show that Alex enjoys and he's been trying to get caught up on. Arrow also happens to be a show that he has gotten Alexander hooked on too!
With Blu-ray's unsurpassed picture and sound, Arrow: The Complete Third Season
Blu-ray release includes 1080p Full HD Video with DTS-HD Master Audio for English 5.1. The 4-disc Blu-ray will feature a high-definition Blu-ray and a Digital HD copy of all 23 episodes from Season Three.
SPECIAL FEATURES
• Second Skins: Creating The Uniforms of Arrow
• Nanda Parbat: Constructing The Villain's Lair
• Two Arrow Audio Commentaries
• Arrow at Comic-Con 2014
• The Man Beneath the Suit – Atom's First Flight
• Gag Reel
• Deleted Scenes
23 ONE-HOUR EPISODES
1. The Calm
2. Sara
3. Corto Maltese
4. The Magician
5. The Secret Origin of Felicity Smoak
6. Guilty
7. Draw Back Your Bow
8. The Brave and the Bold
9. The Climb
10. Left Behind
11. Midnight City
12. Uprising
13. Canaries
14. The Return
15. Nanda Parbat
16. The Offer
17. Suicidal Tendencies
18. Public Enemy
19. Broken Arrow
20. The Fallen
21. Al Sah-him
22. This is Your Sword
23. My Name Is Oliver Queen
Be sure to grab your copy of Arrow: The Complete Third Season
and get ready for the premiere on the CW on October 7th!
The following two tabs change content below.
Anne is a 30-something full-time SAHM mom of 5 ranging from 3 to 17 and grandma of 1 who resides in Ashwaubenon (Green Bay) Wisconsin. She started blogging in 2008 as a way to regain her sanity. She enjoys coffee, chocolate, cheeseburgers and vodka along with spending time with her husband and kids.
Latest posts by Anne Younger (see all)