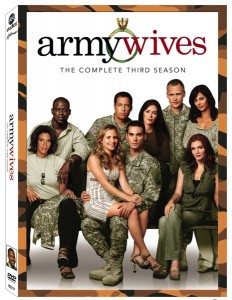 I was first introduced to Army Wives on a trip to my local library. After searching through the free DVD rental section, I stumbled across season 1. After being sucked in, I continued to watch season 2 as it aired on Lifetime. Unfortunately, I was not able to keep up when season 3 aired due to financial constraints, we had removed cable from growing list of bills.
Then, I was given this great opportunity to review Season 3 of Army Wives!
So, this weekend, that is exactly what I did.
I watched every darn episode.
And.
O.M.G.
I loved it.
I am stunned.
I laughed.
I cried.
Who am I kidding….
I bawled like a 2 year old.
It was so darn good.
Now, I am anxiously awaiting the premiere of Season 4.
After I watched the finale (and OHMAHGAWD if you haven't seen it, run out and buy Season 3 tomorrow when it comes out!!!) I wiped away my tears, took a moment to collect myself and then played around with the special features that it includes, such as:
• Bloopers
• Deleted Scenes
• Six Webisodes – Featuring Joan and Roland Burton and Jeremy Sherwood
• Stationed In The South – The cast and crew of Army Wives take us behind the scenes in the
historical city of Charleston, South Carolina, and show us how the city's scenic landscape is
integrated into the show.
• Army Wives Gives Back – Lifetime and The Army Wives team up to surprise deserving military
families.
Watching the bloopers REALLY helped lighten the mood!
All I can say is if you haven't seen Season 3 and are planning on picking it up, I STRONGLY recommend getting yourself a few boxes of Kleenex as well!
Walt Disney Studios Home Entertainment releases Army Wives Season 3 on DVD on Tuesday, February 9th 2010.
Disclosure of material connection:
The following two tabs change content below.
Anne is a 30-something full-time SAHM mom of 5 ranging from 3 to 17 and grandma of 1 who resides in Ashwaubenon (Green Bay) Wisconsin. She started blogging in 2008 as a way to regain her sanity. She enjoys coffee, chocolate, cheeseburgers and vodka along with spending time with her husband and kids.
Latest posts by Anne Younger (see all)