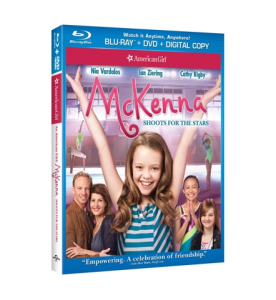 We never really experienced American Girl in our house because the Libby never really got into playing with dolls. I am hoping things change with Ellie as she gets older.
My niece on the other hand, is a HUGE fan of American Girl!
AN AMERICAN GIRL:
MCKENNA SHOOTS FOR THE STARS
Available on Blu-ray™ Combo Pack – Featuring DVD, Digital Copy & UltraViolet™ – and DVD
Sold Exclusively at Wal-Mart, American Girl Stores and americangirl.com
Synopsis:
Meet McKenna Brooks™, a determined and confident young gymnast, in this all-new modern-day adventure. McKenna™ is on track to make the regional competitive gymnastics team but off-track in school, where she's suddenly struggling to keep up. When her teacher suggests a tutor, she's embarrassed and desperate to keep it a secret from her friends. Then a bad fall at the gym sidetracks her from her favorite sport. Will she recover in time to make the team? Can she succeed in school, too? McKenna™ needs to focus on her strengths to overcome her challenges – and, with the help of family and friends, find a way to believe in herself again.
Check out the trailer!
An American Girl: McKenna Shoots for the Stars™, coming to Blu-ray™ Combo Pack, DVD, and Digital Download on July 3, 2012, from Universal Studios Home Entertainment. The movie is also scheduled to Air on Saturday July 14, 2012 at 8/7c on NBC.
Disclosure: This information was provided to me by Universal Studios Home Entertainment to share at my own will. I did not receive any compensation.
The following two tabs change content below.
Anne is a 30-something full-time SAHM mom of 5 ranging from 3 to 17 and grandma of 1 who resides in Ashwaubenon (Green Bay) Wisconsin. She started blogging in 2008 as a way to regain her sanity. She enjoys coffee, chocolate, cheeseburgers and vodka along with spending time with her husband and kids.
Latest posts by Anne Younger (see all)