This past Friday, we had an ultrasound.
Here is a current picture of Baby Ellie.


What freaks me out about this picture is that Baby Ellie closely resembles Alexander at 21 weeks.
See for yourself!


See what I mean?
That's some scary stuff right there!
Anywho, onto the baby news.
During our ultrasound we of course wanted to find out the sex of our little Baby Ellie.
First the cord was in the way.
Then the legs were crossed at the ankles.
After that a hand decided to cover the private area.
Shortly after, the tech thought she may have caught a glimpse and predicted we are having……
a little girl.
BUT….
She did stress that we shouldn't run out and buy a bunch of pink stuff just yet!!
A few weeks ago we were given the Intelligender Test to try.
Here is our result from that little test.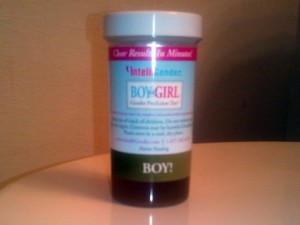 So, really nobody knows what exactly is happening inside of me right now!
We are having a 3D/4D Ultrasound on the 23rd of this month so I will definitely update you then.
Here's hoping Baby Ellie is a little more cooperative during our next appointment!
The following two tabs change content below.
Anne is a 30-something full-time SAHM mom of 5 ranging from 3 to 17 and grandma of 1 who resides in Ashwaubenon (Green Bay) Wisconsin. She started blogging in 2008 as a way to regain her sanity. She enjoys coffee, chocolate, cheeseburgers and vodka along with spending time with her husband and kids.
Latest posts by Anne Younger (see all)