Having an Alexander of my own, I know just what it is like to have one of those terrible, horrible, NO GOOD, VERY BAD DAYS!
I am looking forward to heading to the movies October 10th with my Alexander to see this movie and share a fun experience with him since it is based off of one of our favorite chidlren's books.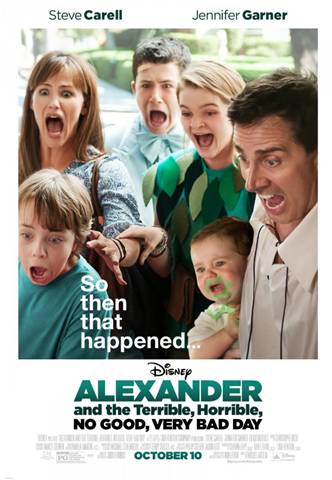 Disney's Alexander and the Terrible, Horrible, No Good, Very Bad Day follows the exploits of 11-year-old Alexander (Ed Oxenbould) as he experiences the most terrible and horrible day of his young life—a day that begins with gum stuck in his hair, followed by one calamity after another. But when Alexander tells his upbeat family about the misadventures of his disastrous day, he finds little sympathy and begins to wonder if bad things only happen to him. He soon learns that he's not alone when his mom (Jennifer Garner), dad (Steve Carell), brother (Dylan Minnette) and sister (Kerris Dorsey) all find themselves living through their own terrible, horrible, no good, very bad day. Anyone who says there is no such thing as a bad day just hasn't had one.
You can check out the trailer for Alexander and the Terrible, Horrible, No Good, Very Bad Day below.
After watching the trailer a few times, I'm even more excited to see this film!
The following two tabs change content below.
Anne is a 30-something full-time SAHM mom of 5 ranging from 3 to 17 and grandma of 1 who resides in Ashwaubenon (Green Bay) Wisconsin. She started blogging in 2008 as a way to regain her sanity. She enjoys coffee, chocolate, cheeseburgers and vodka along with spending time with her husband and kids.
Latest posts by Anne Younger (see all)