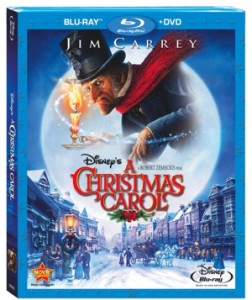 Now, I've seen quite a few different versions of the tale behind A Christmas Carol. I've seen it as a made for TV movie, I've seen it as a cartoon, I've seen it presented by The Muppets, The Flintstones, The Jetsons, even Mickey Mouse. Of all of these, I've always preferred the Mickey Mouse one. That was until we had the chance to see the new Disney version.
Let me tell you, if you haven't see this film, you are in for quite the treat!
Jim Carrey gives us another impeccable performance as Ebenezer Scrooge and if you look at his character close enough you will see the amazing resemblance. The same goes for Collin Firth's character Fred.
Overall, our family really enjoyed this film and I'm sure it will be watched over and over and over again right up until Christmas.
Check out this awesome sneak peek!
This film also offers some excellent bonus features as well. Our personal favorite was checking out the deleted scenes.
Disney's A Christmas Carol hits stores on November 16th and I'm happy to let you know that from now until November 28th 2010, you can print this COUPON and save $10 off your 4-Disc Blu-Ray Combo Pack.
Disclaimer: This promotion was based on using a complimentary product provided by Walt Disney Studios Motion Pictures. Walt Disney Studios Motion Pictures doesn't represent or warrant the accuracy of any statements or product claims made here, nor does it endorse any opinions expressed within this blogsite. The opinions stated from me are 100% mine and they are my true thoughts on this film.
The following two tabs change content below.
Anne is a 30-something full-time SAHM mom of 5 ranging from 3 to 17 and grandma of 1 who resides in Ashwaubenon (Green Bay) Wisconsin. She started blogging in 2008 as a way to regain her sanity. She enjoys coffee, chocolate, cheeseburgers and vodka along with spending time with her husband and kids.