Well, here we are once again….getting ready to potty train. The best thing about potty training this time around is that this is the LAST TIME we have to do it!
Joey has been showing more interest in the potty these days and wants to join everyone in the potty. What is even better is that he wants to sit on the potty too!
Since Joey has been showing signs, we decided that now was probably a great time to stock up on the basics, from Sam's Club, to potty train our little dude and have the bathroom ready at all times.
Now, you might ask, what are the basics. Well, Joey is my 5th child being potty trained and my 3rd boy, so I've learned a few things.
These days I consider myself a veteran when it comes to potty training and know exactly what we need to have on hand to train our little man!
Potty Training Essentials
A potty seat to place on your toilet or an awesome potty you child has picked out.
Underwear that your child has picked out. Joey has opted for some cute Mickey Mouse ones.
A step stool for getting on the potty and for washing hands.
Targets. If you are training a boy and want to train them how to both sit and stand up to use the potty, giving them a target to aim at is a necessity. We like to use Cheerios because they float and they are flushable.
A nice soft and sturdy toilet paper to keep their little bottoms clean, we prefer Charmin Ultra Soft. We keep lots of this on hand because it tends to get unrolled in our house and because it's 75% more absorbent so you use 4 times less and there's a thousand free extra sheets per pack!! It is also great for cleaning up accidents since it is super absorbent.
Books. Put a basket of books in your bathroom for your child to look through while they are on the potty. This helps them sit still longer.
Cool soap. Promote clean hands after using the potty by having a cool, kid friendly soap ready to go.
Rewards. Have something on hand to reward your child when they use the potty. Normally we do sticker charts but Joey, he's more motivated by chocolate so we will be using M&M's.
Now that we are all stocked up, the bathroom is ready for Joey to use it when ever he needs too!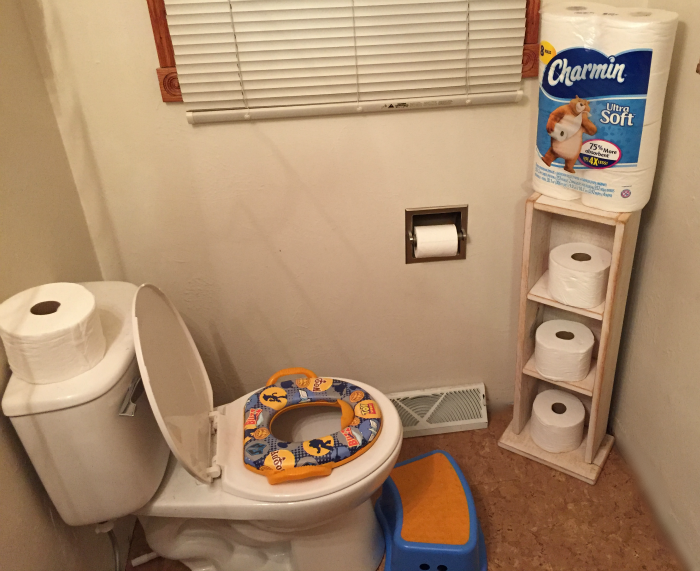 Wish us luck because our home is so close to being diaper free!
Win
Don't miss your chance to win 1 of 53 $50 gift cards to Sam's Club! To be entered to win, share your potty training tip/trick and #CharminAtSamsClub on Twitter or Instagram
(The Megalomaniac Mommy is not responsible for prize fulfillment).
$50 Sam's Club Gift Card Giveaway for Charmin

The following two tabs change content below.
Anne is a 30-something full-time SAHM mom of 5 ranging from 3 to 17 and grandma of 1 who resides in Ashwaubenon (Green Bay) Wisconsin. She started blogging in 2008 as a way to regain her sanity. She enjoys coffee, chocolate, cheeseburgers and vodka along with spending time with her husband and kids.