Day 02 – A picture of you and the person you have been closest with the longest.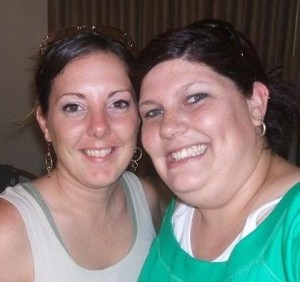 This is a picture of my friend Natalie and I from 2006 when we were down in Milwaukee for the weekend visiting her brother in the V.A. Hospital. Natalie and I have been friends as far back as I can remember. Her family lived a house away from my Grandmother when I was a kid. A few years later, my parents purchased that house from my Grandma and Natalie and I were together every day. She has always been there for me and I for her and she is also the one friend that I have never been in a 'tif with, exchanged bad words or had anything get in the way of our friendship. We are still close and talk just about everyday and sometimes it is multiple times each day. Natalie has 4 children and 3 of them are all around the same age as mine. Our daughters are all very good friends, and her 2 daughter is in the same grade at the same school as the Libby and her youngest child, a boy is only a few weeks older than Alexander and they are already very close friends. If there was ever one person who could share my life's story with the world, Natalie would be that person!
Love you Nats!
The following two tabs change content below.
Anne is a 30-something full-time SAHM mom of 5 ranging from 3 to 17 and grandma of 1 who resides in Ashwaubenon (Green Bay) Wisconsin. She started blogging in 2008 as a way to regain her sanity. She enjoys coffee, chocolate, cheeseburgers and vodka along with spending time with her husband and kids.