Our 2015 Holiday Gift Guide is here and we are ready to point you in the right direction for the perfect gifts for your family and friends.
We have included all kinds of great products in our guide that we have purchased or reviewed throughout the year and wanted to take a moment to highlight a few products from our sponsors that we think are sure to be a hit this holiday season.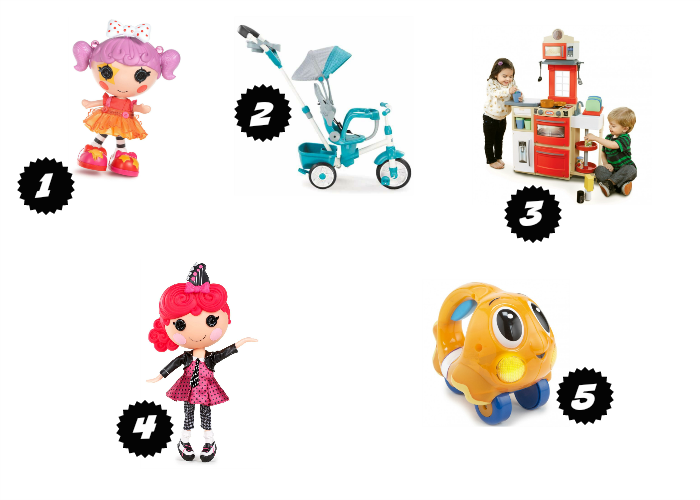 Lalaloopsy Dance with Me Interactive Doll (Peanut Big Top) Little Lalaloopsy fans will love this super silly dolly as she dances along with them. Once you are wearing the magical bow, Peanut will recognize your movement and mimic your dance speed. In addition to mimicking your moves, Peanut will teach you the Super Silly Party dance and play freeze dance. MSRP: $59.99 BUY NOW
Little Tikes Perfect Fit™ 4-in-1 TrikeThe Perfect Fit 4-in-1 Trike grows with your child! First, the parent pushes and steers; but, as the child grows, the parent can steer while the child pedals. When toddlers learn to pedal the bike,parents can remove the waist bar and now the child can steer. Last stage is when the child pedals and steers all on their own! MSRP: $99.99 BUY NOW
Little Tikes Cook 'n Store™ KitchenThe Little Tikes Cook 'n Store Kitchen comes fully assembled. Plus, this play kitchen set compactly folds up for easy storage! This unique, red play kitchen has plenty of storage for all of the 32 accessories. Examples of the kitchen accessories include utensils, pots, food, and more! Little hands were meant to cook up new creations with their imagination – the red Cook 'n Store Kitchen will allow them to do just that! MSRP: $69.99 BUY NOW
Mini Lalaloopsy Doll
Lalaloopsy were once rag dolls who magically came to life when their very last stitch was sewn. Each doll has her own personality that comes from the fabrics that were used to make her. They live in a fantastical world full of silly surprises. With your love, and a bit of imagination, the Lalaloopsy magic can go on forever. Each Lalaloopsy character has a unique personality based on what she was made from – Shoes and clothes are removable for fashion play. MSRP: $6.99 and up BUY NOW
Little Tikes Lil' Ocean Explorers™ Push 'n Glow Fish™ The Lil' Ocean Explorers Push 'n Glow Fish in orange is a fun, light-up push toy that promotes active play. The Push 'n Glow Fish is designed specifically for infants and toddler's little hands. The handle makes it easy for children to push and carry with them. With the flip of a switch, the orange push toy plays fun sounds and the cheeks glow for more active play! MSRP: $9.99 BUY NOW
Soniclear Petite The Soniclear Petite Antimicrobial Sonic Skin Cleansing Brush-Tutti Frutti by Michael Todd is the world's first antimicrobial sonic cleansing brush with built in protection that inhibits up to 99.9% of stain and odor causing bacteria so your brushes stay cleaner, fresher longer for up to 6 months. MSRP: $99.99 BUY NOW
Beets Blu Heart Rate Monitor Beets BLU with chest strap ensures a continuous heart rate measurement with no interruption to exercise. The sensor captures the slightest electrical impulses and performs the most accurate heart rate readout due to ECG-based technology. Beets BLU is easy to use right out of the box. It starts your heart rate reading in seconds and delivers lossless data transmission to your smartphone through the energy efficient Bluetooth Smart wireless protocol. MSRP: $39.95 BUY NOW
Beets Blu Wireless Scale Beets BLU Wireless Bluetooth 4.0 Smart Scale easily connects to your iPhone via Bluetooth 4.0. It tracks your weight and Body Mass Index (BMI) over time and sends data directly to your iPhone when it is in range. Use Beets BLU Smart Scale as your everyday scale, track multiple users, set goals and monitor your weight over time via Beets BLU app. MSRP: $74.95 BUY NOW
Mediflow Original Waterbase Pillow The unique Mediflow pillow has a top 5" layer of soft hypo-allergenic polyester fiber with a thin water pouch on the bottom which provides user-adjustable support for the neck. Most soft polyester filled pillows feel good at first but collapse during the night, interrupting sleep for constant fluffing and re-stuffing. Some memory foam pillows are great for neck support but are too hard on the face and head to sleep on all night. With the Mediflow Waterbase pillow you get the soft comfort needed to achieve sleep quickly and the customizable support from the waterbase to maintain support to reduce sleep interruptions. The waterbase adjusts automatically as you move during sleep! MSRP: $39.99 BUY NOW
Skylanders SuperChargers Starter Pack Skylands is in peril! Kaos has unleashed his most evil weapon yet – the Doomstation of Ultimate Doomstruction. With all of Skylands on the verge of collapse, a special team called the SuperChargers has been assembled to pilot an unstoppable fleet of incredible vehicles. Now you and the SuperChargers must embark on epic adventures over land, under sea, and through the sky to stop Kaos and save Skylands! MSRP: $74.99 BUY NOW
Solvit Tagalong Booster Seat Provide a comfy ride for your favorite four-legged passenger. Other booster seats sit too low, or they are supported by straps that attach to the front of the basket, making it difficult for pets to see out or move around. This design supports the seat from below, providing an unobstructed view and more comfortable ride for pets – with no clumsy straps to get in the their way. MSRP: $44.99 BUY NOW
Erin Condren Life Planner And so the adventure begins! Start your adventure with an Erin Condren LifePlanner™ stylized organizer, available in horizontal, vertical, and hourly weekly layouts. MSRP: $50.00 BUY NOW
Solvit HomeAway™ Travel Organizer Kit Organize all your pet's essentials in one efficient and attractive package. Whether your pet is traveling with you, or they're staying with a sitter while you're out of town, the HomeAway holds everything they need for an extended stay away from home. MSRP: $59.99 BUY NOW
Airfree Onix 3000 Air Purifier Airfree is the natural solution to asthma, respiratory allergies and mold. Eliminates dust mites, bacteria, mold spores, viruses, pollens, pet dender, ozone and other microorganisms from the air. Airfree applies the same concept as boiling water in using heat to destroy microorganisms and attains 100% efficiency at the Airfree air outlet. The entire process is completely silent and requires no maintenance, not even the occasional replacement of parts. MSRP: $299.00 BUY NOW
LeapFrog LeapPad Platinum Tablet is a 7" hi-res Wi-Fi learning tablet for kids ages 3-9. This tablet offers 8GB of memory, front and back cameras, video recorders, kid-safe web browsing, and it Includes 10 apps plus 6 LeapFrog Imagicards and mini games. MSRP: $129.99 BUY NOW
Now, these are just a few things from our amazing sponsors this year. Be sure to check out our full gift guide, powered by Amazon!
Click below for our gift guide

The following two tabs change content below.
Anne is a 30-something full-time SAHM mom of 5 ranging from 3 to 17 and grandma of 1 who resides in Ashwaubenon (Green Bay) Wisconsin. She started blogging in 2008 as a way to regain her sanity. She enjoys coffee, chocolate, cheeseburgers and vodka along with spending time with her husband and kids.
Latest posts by Anne Younger (see all)