x
Hi everyone, thanks for stopping by!
Things are a bit of a mess over here right now and I am in the process of repairing broken links and photos. You are definitely welcome to poke around as I am working behind the scenes. I am still working hard to get things fixed around here. All posts from 2014, 2013 and most of 2012 should be working without any problems now.
Thanks!
Anne
4/14/2014
*This information was provided to me by Mabel's Labels. This post may contain affiliate links.*
As a mom who suffers from allergies and asthma as well as having a child who does, I am happy to share that May is National Asthma and Allergy Awareness Month and Mabel's Labels has launched their newly re-designed Allergy Alert Labels. These labels are a must-have to help make sure that your family is eating safely. Allergy Alerts are durable, waterproof labels that specify allergies on items such as lunch boxes, water bottles, travel gear and much more!
If you have someone in your home who suffers from allergies, be sure to check out these great labels.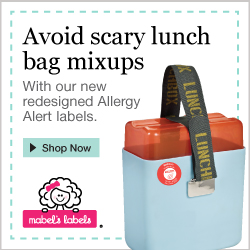 The following two tabs change content below.
Anne
Anne is a 30-something full-time SAHM mom of 5 ranging from newborn to 14 who resides in Ashwaubenon (Green Bay) Wisconsin. She started blogging in 2008 as a way to regain her sanity. She enjoys coffee, chocolate, cheeseburgers and vodka along with spending time with her husband and kids.
One Response to "Newly Re-designed Allergy Alert Labels from Mabel's Labels"