I am what my family likes to refer to as a lover of ChapStick. I'm a sucker for Cherry ChapStick as it will always be #1 on my list but I have discovered a new love…..Limited Edition ChapStick Cupcake Creations.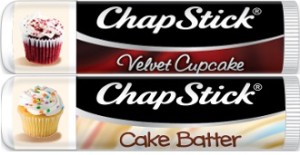 Yes…..Cake Batter and Red Velvet flavored ChapStick.
Seriously, how much better can life get??
I am hooked….so hooked that I ran out to Wal-Mart and Walgreens (you can find them at CVS too!)  and bought a bunch of extras as these are only available until March 31st!
These flavors are both so delicious I almost want to eat them.  My favorite is definitely the Cake Batter and Hardworking Hubby is just as hooked as I am.  Both DramaQueen and Zman are loving the Velvet Cupcake.
Seriously, if you can find them in a store near you, I definitely recommend grabbing some and giving it a try!
Thanks to ChapStick, getting soft, smooth lips is a……piece of cake!
You can connect with ChapStick on Facebook or visit their website.
Disclosure:   The ChapStick® product, information and gift have been provided by Pfizer Consumer Healthcare.
Anne
Anne Younger is a full-time wife and stay at home mom of 4.....soon to be 5! After spending most of her 20's as a single mom, she met a wonderful man, fell in love, got pregnant, got married and welcomed 2 more children in her life and is currently expecting another! Anne started The Megalomaniac Mommy blog in April 2009 as a way to reach out and connect with other moms and it has become a passion of hers! Anne has been a brand ambassador for many great brands including Crayola, Verizon, Disney and many, many more.