x
Hi everyone, thanks for stopping by!
Things are a bit of a mess over here right now and I am in the process of repairing broken links and photos. You are definitely welcome to poke around as I am working behind the scenes. I am still working hard to get things fixed around here. All posts from 2014, 2013 and most of 2012 should be working without any problems now.
Thanks!
Anne
4/14/2014
2 packages of active dry yeast
3 cups warm water
2 teaspoons salt
3 tablespoons vegetable oil
7 cups all-purpose flour
1 egg
1 table spoon water
Directions
In a large bowl, dissolve yeast in 3 cups warm water. Let it stand for 10 minutes or until creamy.
Add salt, oil and 4 cups of flour to the yeast mixture and beat well. (We used our Kitchen Aid mixer for this). Stir in the remaining flour 1/2 a cup at a time while beating. (We used the mixer at medium speed with a dough hook.)
When the dough has all pulled together dump it out onto a lightly floured surface and knead it until smooth (add a little water here and there if needed).
Once the dough is smooth, lightly oil a large bowl, place the dough in a bowl, turn it and coat it will oil.
Cover the bowl with a damp cloth and place it in a warm place and let it rise until doubled in volume. (We were in a hurry so we turned the oven on and set the bowl on top of the stove to get it to rise in 30 minutes).
Punch the dough down (this was Zack's favorite part!) and divide it into 8 equal portions. Shape each in a 3-4 inch round loaf. Place loaves on lightly greased baking sheets, cover and let rise in a warm place until doubled in volume. (Again, we cheated by setting them on top of the stove and they doubled in size in about 15 minutes).
Preheat over to 400*.
In a small bowl, beat together 1 egg and 1 tablesppon water and lightly brush the loaves with half of the egg wash.
Bake in oven at 400* for 15 minutes. Brush remaining egg waash on loaves and bake 10-15 more minutes or until a golden brown
Let cool.
To make a bowl, cut out center of bowl and remove the guts (save them to dip in your soup!) Fill bread bowls with your soup or choice and serve immediately.
These bread bowls were made by 14 year-old Zack.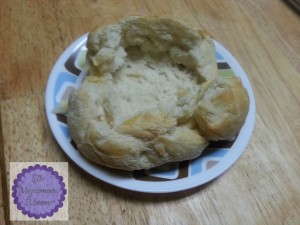 The following two tabs change content below.
Anne
Anne is a 30-something full-time SAHM mom of 5 ranging from newborn to 14 who resides in Ashwaubenon (Green Bay) Wisconsin. She started blogging in 2008 as a way to regain her sanity. She enjoys coffee, chocolate, cheeseburgers and vodka along with spending time with her husband and kids.
2 Responses to "Homemade Bread Bowls #Recipe"