x
Hi everyone, thanks for stopping by!
Things are a bit of a mess over here right now and I am in the process of repairing broken links and photos. You are definitely welcome to poke around as I am working behind the scenes. I am still working hard to get things fixed around here. All posts from 2014, 2013 and most of 2012 should be working without any problems now.
Thanks!
Anne
4/14/2014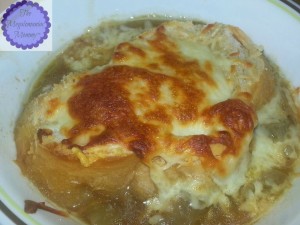 Ingredients
3 large onions, sliced in rings and then cut in half
3 tablespoons butter
3 tablespoons all-purpose flour
2 tablespoons Worcestershire sauce
1 teaspoon sugar
1/4 teaspoon pepper
4 cans beef broth (14.5 oz)
1 loaf French bread
Shredded mozzarella cheese
Shredded parmasan cheese
Directions
Add sliced onions and butter to the crock pot and cook on high for 30 minutes. After 30 minutes add the flour, sugar, pepper and Worcestershire sauce followed by all 4 cans of beef broth. Cook on High for 5-6 hours or Low 9-10 hours or until onions are very tender.
Once your soup is ready, slice the French bread into 1″ thick slices. Fill your bowl or soup crock with soup and place a piece of bread on top, add desired amount of mozzarella and parmasean cheeses and bake in oven at 325* until cheese is melted and golden brown or Broil on Low for 5 minutes.
Enjoy!
The following two tabs change content below.
Anne
Anne is a 30-something full-time SAHM mom of 5 ranging from newborn to 14 who resides in Ashwaubenon (Green Bay) Wisconsin. She started blogging in 2008 as a way to regain her sanity. She enjoys coffee, chocolate, cheeseburgers and vodka along with spending time with her husband and kids.
One Response to "Crock Pot French Onion Soup #Recipe"