All of my kids are crazy about chili and I have been looking for a quick and easy way to whip up a batch instead of having a pot on the stove boiling and simmering all day until it was ready to eat. I finally decided I would try making chili in the crock pot and I will never make it any other way again.
Now I know a lot of people don't put noodles in chili, but I do because it soaks up the juice and there is less mess when feeding little ones!

Ingredients
2 lbs lean ground beef
1.5 teaspoons salt
3 teaspoons chili powder
2 teaspoons ground cumin
2 cans (15oz each) diced tomatoes — DO NOT DRAIN
2 cans (15oz each) kidney beans drained
1 medium onion chopped
Elbow Macaroni (optional)
Directions
Brown hamburger in a pan along with onions, 2 teaspoons chili powder, 1 teaspoon ground cumin. Once browned, drain and combine hamburger and remaining ingredients (including 1 teaspoon chili powder and 1 teaspoon ground cumin) in crock pot. Once everything is in the crock pot give it a stir and cook on low for 7-8 hours.
Enjoy!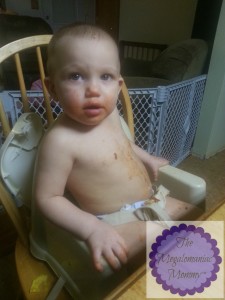 Anne
Anne Younger is a full-time wife and stay at home mom of 4.....soon to be 5! After spending most of her 20's as a single mom, she met a wonderful man, fell in love, got pregnant, got married and welcomed 2 more children in her life and is currently expecting another! Anne started The Megalomaniac Mommy blog in April 2009 as a way to reach out and connect with other moms and it has become a passion of hers! Anne has been a brand ambassador for many great brands including Crayola, Verizon, Disney and many, many more.

One Response to "Easy Crock Pot Chili #Recipe"