1 – 2.5 to 3 lb pork loin or boneless pork shoulder roast (we used pork loin)
1/2 tsp salt
1/2 tsp black pepper
2 medium onions quartered
3 – 12oz cans of root beer (not diet)
1 cup bottled chili sauce
Directions
Place pork in slow cooker, add in onions, salt, pepper and 1 can of root beer. Cover and cook on low heat 8-10 hours or high heat for 4 to 5 hours. In the last 30-35 minutes of cook time, in a medium saucepan, combine the remaining 2 cans of root beer and 1 cup of chili sauce. Bring to a boil, reduce and boil gently, uncovered until preferred consistency stirring occasionally.
While the sauce is setting up, transfer pork and onions from slow cooker to a large bowl or disposable tin pan (we opted for tin pan) and shred the meat using two forks.
Once the meat is shredded and sauce is done, combine the two in the bowl or tin and mix. When finished serve on buns with your favorite toppings!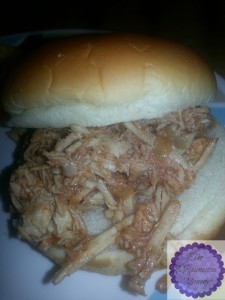 Anne
Anne Younger is a full-time wife and stay at home mom of 4.....soon to be 5! After spending most of her 20's as a single mom, she met a wonderful man, fell in love, got pregnant, got married and welcomed 2 more children in her life and is currently expecting another! Anne started The Megalomaniac Mommy blog in April 2009 as a way to reach out and connect with other moms and it has become a passion of hers! Anne has been a brand ambassador for many great brands including Crayola, Verizon, Disney and many, many more.

One Response to "Slow Cooker Sweet Pork Sandwiches {Recipe}"