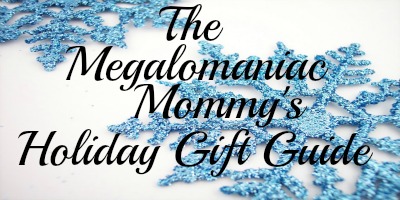 Welcome to The Megalomaniac Mommy's Holiday Gift Guide for the 2012 holiday season. This year, I am pleased to bring you some great products that our family has fallen in love with and enjoyed throughout the year.  Be sure to check back daily for new items as the holidays get closer. I will also be throwing in a few giveaways throughout this holiday season as well.
If you would like to view the complete gift guide, you may do so by clicking on the gift guide logo above.
---

As a Product Development Company and Importer for over 26 years, Mark Feldstein & Associates, inc. (MFA) has gained a reputation for delivering innovative housewares, gifts and electronics to the marketplace. MFA's success over the years is the result of our awareness of ever-changing buying trends. We are constantly researching and developing unique products to stay one step ahead of the market demand and to meet the needs of our diverse customer base – over 3,000 retailers worldwide. These customers include gift and specialty stores, department stores, mass merchandisers, drug and grocery stores, hardware stores, and mail order catalogs.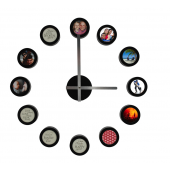 Now that we are finally starting to get settled into our new home and are picking out paint colors and decor for different rooms, I am ready to take on some DIY projects that do not involve physical work.
My latest project is my DIY Wall Clock from Mark Feldstein & Associates.  In the past, my kitchen has always carried a coffee theme. However, now that we will have an entirely new kitchen I am having a dual theme….coffee & cooking.  Since I will have a dual theme, this clock will be the perfect fit.  I am slowly taking pictures of different food items, utensils, and coffee stuff.  Once I have my pictures, I will pick my 12 favorite and they will be featured in my new clock!
I can't wait to get this clock up on the wall in our kitchen once the remodel is complete!
If you are looking for a unique gift to give this holiday season, consider  a D.I.Y.Wall Clock from Mark Feldstein & Associates.
Disclosure:  I received a promotional item in order to facilitate this review.  All thoughts and opinions are my own.  This post does contain an affiliate link.
Anne
Anne Younger is a full-time wife and stay at home mom of 4.....soon to be 5! After spending most of her 20's as a single mom, she met a wonderful man, fell in love, got pregnant, got married and welcomed 2 more children in her life and is currently expecting another! Anne started The Megalomaniac Mommy blog in April 2009 as a way to reach out and connect with other moms and it has become a passion of hers! Anne has been a brand ambassador for many great brands including Crayola, Verizon, Disney and many, many more.

2 Responses to "Holiday Gift Guide: DIY Wall Clock from Mark Feldstein & Associates"