Since the Hardworking Hubby switched to 2nd shift last month, we have all be adjusting to our new schedule and not having daddy home in the evenings for dinner, homework, and bedtimes. For the big kids, it's not such a big deal, but the little ones really enjoy their daddy time and they do get more during the day however at night, sometimes they just need a quick daddy fix. In order to stay in touch and get that quick fix while daddy is at work, we have been using the Tango App on our Samsung Galaxy SIII phones.
Tango allows you to make free voice and video calls and text message. We have been using it quite a bit to video chat with daddy before bedtime and it has been a great tool.
We have also taken advantage of the video chatting on the Galaxy SIII so daddy is also included in important moments and milestones, like watching Miss Bean walk across our living room last night.
Here's a screenshot of a video chat I had earlier with Tatertot.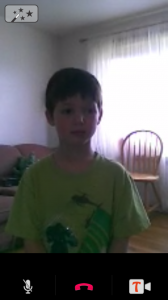 He thinks it's really cool to sit in one room with one phone and call mommy on the other and be goofy!
Once again, technology wins and helps make my life easier and keep our family connected!
Disclosure: I am participating in the Verizon Wireless Midwest Savvy Moms program and have been provided with a wireless device and six months of service in exchange for my honest opinions about the product.
Anne
Anne Younger is a full-time wife and stay at home mom of 4.....soon to be 5! After spending most of her 20's as a single mom, she met a wonderful man, fell in love, got pregnant, got married and welcomed 2 more children in her life and is currently expecting another! Anne started The Megalomaniac Mommy blog in April 2009 as a way to reach out and connect with other moms and it has become a passion of hers! Anne has been a brand ambassador for many great brands including Crayola, Verizon, Disney and many, many more.