Now that Tatertot is older, we have started to introduce him to new toys, you know, things other than Power Rangers, Transformers, and other action figures.  Of these new toys, his new favorite is Lego's   He loves to sit and build for hours and hours.  I have to admit, for a 4 year-old he is mighty creative when building stuff.  So far he has built houses, cars, airlines, and little couches for the little Lego dudes to sit on.
Yes, I am serious.
Cute little couches.
Since he has found this new love and fascination for Lego's I knew he would love his awesome new water bottle…..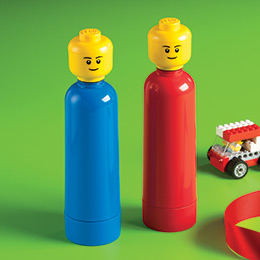 Is that not the coolest thing?
The cool Lego dude that he loves as an awesome water bottle!
My kid is now the coolest in the neighborhood!
Not only is he loving on the water bottle, be I also hooked him up with some cool Lego Boxes to store all his cool kid stuff in.  He has been using them to keep his pennies safe and hidden from the older kids, his dollars are stashed away in another.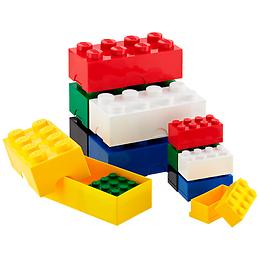 Honestly, he is like a kid in a candy store just having a new water bottle and cool boxes to store all of his stuff in. I have a feeling this winter, those storage boxes will somehow be used to create snow blocks in the yard and I cannot wait to see him have even more fun!
Disclosure:  I received a promotional item at no cost to me in order to facilitate this review.  All thoughts and opinions are my own.
Anne
Anne Younger is a full-time wife and stay at home mom of 4.....soon to be 5! After spending most of her 20's as a single mom, she met a wonderful man, fell in love, got pregnant, got married and welcomed 2 more children in her life and is currently expecting another! Anne started The Megalomaniac Mommy blog in April 2009 as a way to reach out and connect with other moms and it has become a passion of hers! Anne has been a brand ambassador for many great brands including Crayola, Verizon, Disney and many, many more.