To rid the world of tired and mundane products by developing clever, innovative solutions that excite and delight families — making parenting safer, easier and more fun. Munchkin knows it's the little things® that often make the biggest difference.
Now that Bean is on the move, successfully crawling, standing, walking around furniture, I know we are just around the corner from her taking off one step at a time and getting into everything!
Bean being mobile, means we have taken some safety precautions around the house and have started baby proofing! Thankfully, Munchkin has made the baby-proofing process easier for us by providing our family with a childproofing kit and a dual locking angle latch.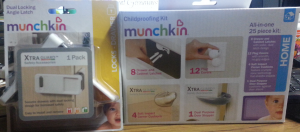 The Munchkin childproofing kit is an all-in-one 25 piece kit that includes 8 drawer and cabinet latches (that we will install after our new kitchen is in) 12 plug covers, which we were in dire need of, 4 soft impact corner cushions which have been installed on our TV stand to protect our little Bean from hurting her little noggin on the corners, and 1 dual purpose door stopper that we have been using on the bedroom door.
I am also waiting for the kitchen install to be done to use the dual locking angle latch, as I think it will be a great addition to the pantry door to keep the little ones out!
We were really happy to see that the items we truly needed for our home were available in one kit and that everything has been very easy to install.  Thank you Munchkin for making our home safer for our little Bean to explore!
You can connect with Munchkin on Facebook, Twitter, or visit their Website.  You can find Munchkin products at a store near you using the store locator.
Disclosure:  I received a promotional item at no cost to me in order to facilitate this review.  All thoughts and opinions are my own.
Anne
Anne Younger is a full-time wife and stay at home mom of 4.....soon to be 5! After spending most of her 20's as a single mom, she met a wonderful man, fell in love, got pregnant, got married and welcomed 2 more children in her life and is currently expecting another! Anne started The Megalomaniac Mommy blog in April 2009 as a way to reach out and connect with other moms and it has become a passion of hers! Anne has been a brand ambassador for many great brands including Crayola, Verizon, Disney and many, many more.