Getting a kid in my house to take a vitamin at a young age has never been an easy task. We've tried chewables, gummies, even pill form and they have never been a hit with the kids. Over the years, we have been changing out different children's meds with the new pourable flavored powder option and have found that the kids are more interested in taking these because not only do they taste better but there is no chewing, no swallowing a pill, and they basically remind them of a Pixie Stick.
Now that my little Tatertot has started school, I decided it was time to get him started on a vitamin to ensure his health now that he was going to be thrown into a pool of a few hundred kids. I look at vitamins as a way to boost the immune system and figured protecting his was a top priority. For the last month or so, Tatertot has been using the New AlternaVites for Kids.  Alternavites come is premeasured packets and they melt in your mouth! He loves that they taste yummy and really likes the Raaspberry Cotton Candy ones!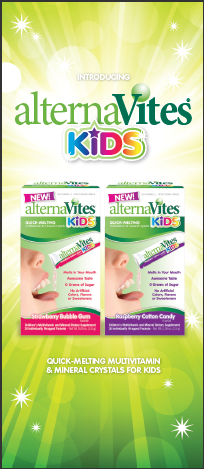 From the Manufacturer: alternaVites Kids® contains 17 essential vitamins and minerals specially formulated for children ages 4 and up. Designed with both you and your children in mind, alternaVites Kids is remarkable not only for what it does contain, but also for what it doesn't.
alternaVites Kids:
*Melts in your mouth
*Comes in 2 awesome flavors – strawberry bubblegum & raspberry cotton candy
*One packet per day
*Has 0 grams of sugar
*Free of aspartame and high fructose corn syrup
*Contains no artificial sweeteners, colors, flavors or preservatives
*Has no animal products or by-products *Does not contain egg, milk, peanut, tree nuts, wheat, soy, fish or shellfish* *Certified kosher pareve
alternaVites Kids' crystal powder makes it one of the most versatile vitamin products on the market. Specially designed to fit easily into the way your family lives today, alternaVites Kids can be taken in so many ways. Our favorite way is to simply sprinkle alternaVites Kids slowly onto the tongue, where it melts quickly. However, you can also mix it into yogurts, puddings or smoothies, sprinkle it on top of fruit, lick it off a spoon – or be creative! The options are endless.
What's more? You can rest assured you're giving your children a high quality, potent multi loaded with the nutrients they need and without the additives they don't. Now there are no more reasons to give your children chalky chewables or gummies that are high in sugar, low in nutrients and can stick to their teeth. Now there are no more excuses not to take vitamins with alternaVites Kids!
My little Tatertot reminds us that he needs to take his vitamins every morning and loves them!  I am happy that our family has found something that the kids actually enjoy taking and I like having the peace of mind knowing that he is getting everything that he needs.
The great thing is, one lucky reader of The Megalomaniac Mommy has the chance to introduce AlternaVites to their family because I am giving away a 30 Day Supply (1box – retail value $15.95).
You can enter to win using the Rafflecopter form below.
In order to qualify to win this giveaway, you MUST COMPLETE the mandatory entry.
Disclosure: I received a promotional item at no cost to me in order to facilitate this review. All thoughts and opinions are my own.
Anne
Anne Younger is a full-time wife and stay at home mom of 4.....soon to be 5! After spending most of her 20's as a single mom, she met a wonderful man, fell in love, got pregnant, got married and welcomed 2 more children in her life and is currently expecting another! Anne started The Megalomaniac Mommy blog in April 2009 as a way to reach out and connect with other moms and it has become a passion of hers! Anne has been a brand ambassador for many great brands including Crayola, Verizon, Disney and many, many more.

11 Responses to "AlternaVites Review & #Giveaway – Ends 10/26"