Last November, our Zman underwent hip surgery.  In April, he had the same procedure done again, just on the other hip.  After being in a wheelchair for 8 weeks after both procedures, followed by too darn much time on crutches, he made his way to physical therapy.
During his first PT session, it was discovered that Zman was walking with his feet turned out and that he also was experiencing pain in both of his feet now that he was walking again because he has flat feet (lack of arch).  I also have the same issue but that's because I live in flip-flops for most of the year!
Once Zman purchased his new tennis shoes for school we decided it would be best to try to defeat the foot pain and get some orthotic inserts for his shoes.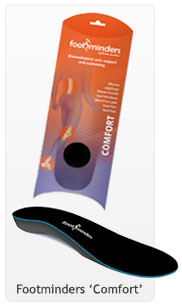 Based on years of biomechanical research, Footminders orthotics were developed by podiatrists to provide longitudinal and metatarsal support and to correct posture and body biomechanics. Footminders orthotic insoles greatly reduce over-pronation, preventing foot strain and injury and providing excellent walking comfort, preventing heel pain caused by plantar fasciitis. .
We went with the Footminders Orthotics for Sports Footwear that are designed for lace-up shoes, athletic footwear, work books, and hiking boots.
According to Zman, the orthotics hurt his feet the first few days as it was something that his feet needed to adjust too but now, 2 weeks after using them on a daily basis, the pain is gone and he has also stopped complaining about pain in his ankles as well!
Footminders Orthotic inserts are also available in a Casual style for men's and women's low-heeled slip-on shoes, including moccasins and in Catwalk style for ladies' fashion footwear with medium to high heels such as pumps, sandals, and boots.
Disclosure: I received one or more of the products mentioned above for free using Tomoson.com. Regardless, I only recommend products or services I use personally and believe will be good for my readers.
Anne
Anne Younger is a full-time wife and stay at home mom of 4.....soon to be 5! After spending most of her 20's as a single mom, she met a wonderful man, fell in love, got pregnant, got married and welcomed 2 more children in her life and is currently expecting another! Anne started The Megalomaniac Mommy blog in April 2009 as a way to reach out and connect with other moms and it has become a passion of hers! Anne has been a brand ambassador for many great brands including Crayola, Verizon, Disney and many, many more.