Every summer as we begin to prepare for the new school I like to do my best to ensure that we are organized, that each of the kids has everything that they need, and also to make sure that everything that should be labeled is securely labeled.
Being the mom, I usually write their name on all of their items with a black permanent marker, however they are not at that age when they don't want their mom doing this for them.
So this year, I turned to Mabel's Labels and got both the DramaQueen and Zman that Mabel's Labels Tween pack of personalized labels which offer 25 unique personalized labels made with tweens in mind.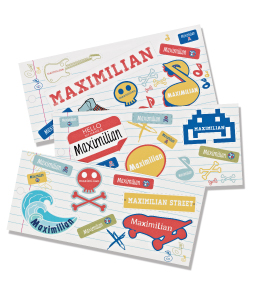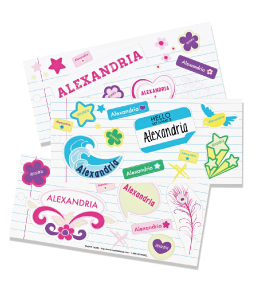 Both Zman & the DramaQueen were happy to use their labels and I am pleased to report that they both used every last one of them! Last year when the DramaQueen started middle school we were fortunate to be prepared with Mabel's Labels Ultimate Back-to-School Combo and I am pretty sure next year when Tatertot heads off to full days of school I will invest in that same combo for him.
Thanks again to Caitlin Madden and Mabel's Labels for making our Back-to-School prep much easier this fall and relieving me of the labeling duties!
Disclosure:  I received a sample ad no cost to me in order to facilitate this review.  All thoughts and opinions are my own.
Anne
Anne Younger is a full-time wife and stay at home mom of 4.....soon to be 5! After spending most of her 20's as a single mom, she met a wonderful man, fell in love, got pregnant, got married and welcomed 2 more children in her life and is currently expecting another! Anne started The Megalomaniac Mommy blog in April 2009 as a way to reach out and connect with other moms and it has become a passion of hers! Anne has been a brand ambassador for many great brands including Crayola, Verizon, Disney and many, many more.

One Response to "Back to School with Mabel's Labels {Review}"