Now that we have moved into our new home and have started to settle in, I FINALLY get to start talking about some awesome products that I have been fortunate to review and show off.  As we are preparing to gut our current, 1970′s style kitchen and install our beautiful new custom cabinets, we are excited that we will have such a beautiful room to showcase them in.
Right now, our house is filled with A LOT of brass hardware and I am NOT a fan of that bright gold finish.  Over time , I plan on switching everything out so it is all brushed nickel.  We have already switched out a few doorknobs and will continue to do so over time.
We have also added to our kitchen decor the beautiful new satin nickel Euro Paper Towel Holder from Spectrum's Euro Collection to replace our cheap wood one that lost the battle with the 4 year old.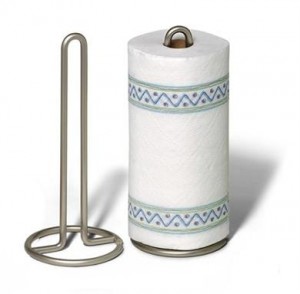 I love that this paper towel holder offers a wide and sturdy base which makes it easier for our little guy since it isn't constantly tipping over and he is able to grab his own 'napkin' now. Our old wood holder was held together by a screw and was always falling apart.
We definitely do not miss it!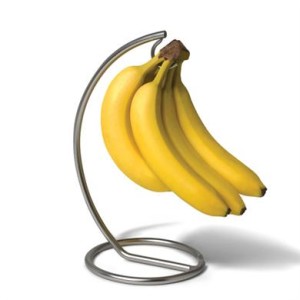 Another item we added to the collection, also from the Spectrum Euro line is the Euro Banana Holder also in the satin nickel finish. Since my kids are banana fanatics, we constantly have them in our home and unfortunately they always end up looking like they just endured one heck of a battle. Now with our new banana holder, they are always up and out of the way and not prone to being destroyed. It is also nice to have them on the hook because it allows them to ripen evenly.
So far I am really enjoying having these new additions to our home but I really cannot wait until they are sitting in our brand new kitchen. Hopefully it will be done soon!
Once the remodel is done and we are fully decorated, I will be back with pictures and another review of a great item from Spectrum! So be on the look out for kitchen updates over the next 6-8 weeks!
Until then, be sure to visit the Spectrum website and check out there  great household products!
You can also connect with Spectrum on Facebook, Twitter, and Pinterest.
Disclosure:  I received samples of these products at no cost to me.  All thoughts and opinions are my own.
Anne
Anne Younger is a full-time wife and stay at home mom of 4.....soon to be 5! After spending most of her 20's as a single mom, she met a wonderful man, fell in love, got pregnant, got married and welcomed 2 more children in her life and is currently expecting another! Anne started The Megalomaniac Mommy blog in April 2009 as a way to reach out and connect with other moms and it has become a passion of hers! Anne has been a brand ambassador for many great brands including Crayola, Verizon, Disney and many, many more.