Since we are trying to live a healthier life, I have been trying to find new foods to introduce to the family. Since we all tend to have a sweet tooth, I wanted to find something sweet yet low cal to eat.
Problem solved.
Meet the Low Cal Strawberry Cupcake.
Less than 100 calories each!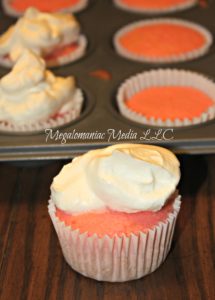 Ingredients:
1 – Strawberry Cake Mix
1- 12oz can Diet 7up
1- container Fat Free Cool Whip
Directions:
Pour cake mix in a bowl, slowly add whole can of soda, mix and put batter into cupcake tins.
Bake as directed.
Cool
Top with a dollop on Cool Whip
ENJOY!!

These cupcakes are healthy in case you're looking out for your weight, and looking to avoid expensive programs and costly surgeries like this http://www.tummytuckcost.com/affordable-vs-cheap-tummy-tucks/ and similar ones.
Anne
Anne Younger is a full-time wife and stay at home mom of 4.....soon to be 5! After spending most of her 20's as a single mom, she met a wonderful man, fell in love, got pregnant, got married and welcomed 2 more children in her life and is currently expecting another! Anne started The Megalomaniac Mommy blog in April 2009 as a way to reach out and connect with other moms and it has become a passion of hers! Anne has been a brand ambassador for many great brands including Crayola, Verizon, Disney and many, many more.

One Response to "Low Cal Strawberry Cupcakes"