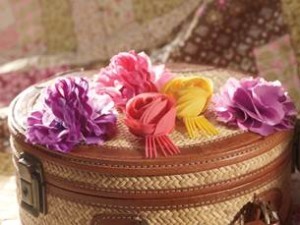 Now that the DramaQueen is 12, and heading into her 2nd year of middle school, she has started to care more about her looks. A girl who once didn't care if she just rolled out of bed, thrown on some clothes, and run out the door; we are not dealing with a girl who wants the latest fashion trends, hair styles and more.
Earlier this year, the DramaQueen and I both had bad haircut experiences and we are still on the road to repair. DramaQueen had finally reached the point where all of her hair was one length and she could pull it all back into a pony tail. Well, after the bad haircut issue, she ended up with an inverted bob and now she is almost even up at the shoulders.
Since this little mishap, we have been creative in styling her hair by using different headbands, clips, straightening it, and more. One of her favorite things to do over the course of this summer is to pin it back and pop a pretty flower in it. Then I introduced her to the Scünci® flower bendini clip and she is loving it! I've had to go out and buy more in different colors just to keep her happy!
The scünci® flower bendini clip is available in three sizes and comes in the assorted colors: black, blue, pink, ivory, turquois, golden yellow, coral, purple, and navy. To use the clip, start by gathering your hair in the desired style. Slide the bendini comb into the hair, and bend and snap it securely in place for an all-day hold.
The clips are available at Walmart, AAFES, CVS, Giant Eagle, Harmon, Rite Aid, Schnucks, Shopko, SuperValu, Walgreens, Weis, Winn-Dixie, and other drug stores and mass market retailers for an average retail price of $4.99.
For more great styling ideas, hair accessory trends and scünci giveaways, "like" scünci on Facebook.
For more information about the scünci line of hair accessories for every day or special occasions, visit scünci online.
You can also enter for your chance to win a Scünci® flower bendini clip of your own by using the Rafflecopter form below.
In order to qualify to win this giveaway, you MUST COMPLETE the mandatory entry.
Disclosure: I received a sample at no cost to me in order to facilitate this review. All thoughts and opinions are my own.
Anne
Anne Younger is a full-time wife and stay at home mom of 4.....soon to be 5! After spending most of her 20's as a single mom, she met a wonderful man, fell in love, got pregnant, got married and welcomed 2 more children in her life and is currently expecting another! Anne started The Megalomaniac Mommy blog in April 2009 as a way to reach out and connect with other moms and it has become a passion of hers! Anne has been a brand ambassador for many great brands including Crayola, Verizon, Disney and many, many more.

8 Responses to "Scünci® flower bendini clip Review & #Giveaway – Ends 9/10"