Last month, I traveled to Chicago for the Verizon Wireless Midwest Savvy Moms Kickoff Event in addition to attending the SocialRevUp Brands & Bloggers conference.  Since I was travelling with the adorable Miss Bean this year, I had to take along someone to assist with her care when I had certain things to attend.  When I was presented with this opportunity, Zman jumped at the chance to accompany me and assist me with the little one.
In exchange for his assistance in Chicago that weekend, I have been letting him use my new Samsung Galaxy SIII on the Verizon network now that Packer Training Camp is in full swing.
Now that he has been using the phone for the last few weeks as he attends Packer practice, I have asked him to share his views on the phone with me.
Zman is in LOVE with the quality of photos that the 8.0 megapixel rear camera produces. He has been taking it to Packers training camp to capture some pictures of some of our boys in the green and yellow. All of the pictures in this collage were taken with the Galaxy SIII and they have not been edited at all!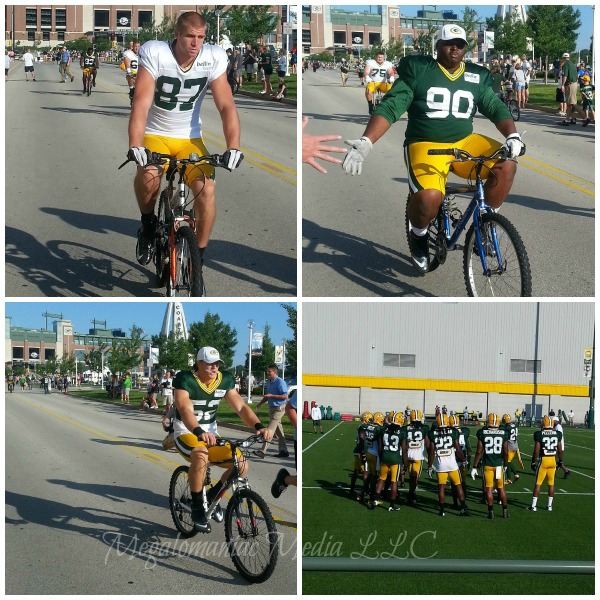 We have also been using the phone to capture some great videos. The Galaxy SIII camcorder function offers a 1080p HD video capture but there will be more on that later!
So from a teenagers perspective, this phone delivers. It offers a great camera and camcorder in addition to some super fast internet connections!
Disclosure: I am participating in the Verizon Wireless Midwest Savvy Moms program and have been provided with a wireless device and six months of service in exchange for my honest opinions about the product.
Anne
Anne Younger is a full-time wife and stay at home mom of 4.....soon to be 5! After spending most of her 20's as a single mom, she met a wonderful man, fell in love, got pregnant, got married and welcomed 2 more children in her life and is currently expecting another! Anne started The Megalomaniac Mommy blog in April 2009 as a way to reach out and connect with other moms and it has become a passion of hers! Anne has been a brand ambassador for many great brands including Crayola, Verizon, Disney and many, many more.