With our little Bean being a preemie, she is a natural born snuggler. During our first days at home, I quickly learned that she slept best if she was snuggled up against me and held close with her blanket on top of her. Upon this realization, I decided to start using a wrap to snuggle with her. This wrap became a part of our daily life and still is now that she is 8 months old.
Earlier this summer, we introduced Bean to the swimming pool at my parents house. Her first reaction was not a good one. She quickly freaked out and wanted nothing to do with the water and wanted her mommy back ASAP!
After this discovery, I began searching online for wraps that could be used in the pool and was introduced to the Wrap(Du)O Water Wrap by Wrapsody.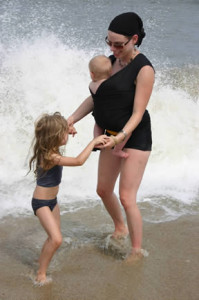 Having used this wrap in the pool this summer, I couldn't be happier. Our little Bean loved her first (and following) experience being in the wrap in the pool and it really helped her become more comfortable in the water. By the end of our swimming season, Bean was happy to finally leave mommy and float around in her shaded seat and kick and splash away.
The Wrap(Du)O by Wrapsody is safe to use both in and out of water, is comfortable and light weight in addition to being fast-drying.
Since discovering this wrap and seeing how great it was for us and how much our little Bean enjoyed it, we have kindly passed it on for use at our local shelter for another mom and child to enjoy.
Photo from WrapsodyBaby.com by GypsyMamaLLC .
Disclosure: I received a product at no cost to me in order to facilitate this review. All thoughts and opinions are my own.
Anne
Anne Younger is a full-time wife and stay at home mom of 4.....soon to be 5! After spending most of her 20's as a single mom, she met a wonderful man, fell in love, got pregnant, got married and welcomed 2 more children in her life and is currently expecting another! Anne started The Megalomaniac Mommy blog in April 2009 as a way to reach out and connect with other moms and it has become a passion of hers! Anne has been a brand ambassador for many great brands including Crayola, Verizon, Disney and many, many more.