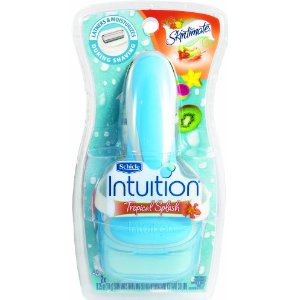 I hate having to shave my legs.
No lie.
It is time consuming, it involves sharp objects, and it involves applying a shaving gel or cream in the shower while balancing on one leg and trying my hardest NOT to fall over and break something.
Since taking a shower (alone and uninterrupted) is something that I rarely get to do, I usually do my best to get in and out as quickly as possible. The longer I tend to stay in, the more stressed I become knowing that someone is sure to barge in sooner or later.
Thanks to the Schick Intuition Tropical Splash 2-in-1 Razor, my legs have been getting a little more attention than normal and I can tell you, the Hardworking Hubby is not complaining!
The Schick Intuition Tropical Splash 2-in-1 Razor lathers, shaves, and moisturizers all in one easy step making the entire process much easier to accomplish in my quick shower! This razor offers a triple blade surrounded by a skin conditioning solid that leaves your skin feeling silky smooth. It is also lightweight and has rubber grips to help prevent the slipping and dropping that I am prone to do!
Thanks to this razor, I have been pampering myself more than usual and have been enjoying the smooth skin that is left behind!
Disclosure: I received a sample of this product at no cost to me in order to facilitate this review. All thoughts and opinions are my own.
Anne
Anne Younger is a full-time wife and stay at home mom of 4.....soon to be 5! After spending most of her 20's as a single mom, she met a wonderful man, fell in love, got pregnant, got married and welcomed 2 more children in her life and is currently expecting another! Anne started The Megalomaniac Mommy blog in April 2009 as a way to reach out and connect with other moms and it has become a passion of hers! Anne has been a brand ambassador for many great brands including Crayola, Verizon, Disney and many, many more.

2 Responses to "Schick Intuition Tropical Splash 2-in-1 Razor {Review}"