It's official….after just over 5 years, we have moved from the place that kept a roof over our heads and have finally escaped the E.A.R.L.  Just after midnight, on the morning of August 5th, Hardworking Hubby, the kids and I met my parents at our new home to finally show it to the kids.
Since we moved, we have been busy making the house beautiful.  The first night we came in, we immediately pulled out the filthy white carpet to find this:

After some serious TLC of removing staples and tack strip, sweeping, vacuuming, AND oiling, the final result was wonderful!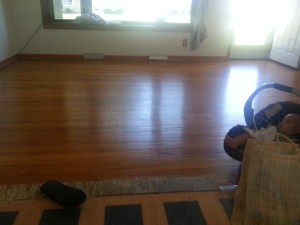 Once we were finished with the living room floor, we moved on to removing carpet in the hallways and in the DramaQueen's bedroom. Under one hallway we found a pretty decent 1970′s poured floor. In the other hallway, we uncovered peel and stick tile on top of another 1970′s poured floor. After removing the tiles, adhesive and years of dirt, we ended up with a pretty decent floor that will suffice until we lay the new floor.


Now that those few projects are done, we are busy unpacking the rest of the house and getting settled in before the next project begins.
The next project is taking our 1973 kitchen that currently looks like this (no, that is not our stuff, that is the previous owners).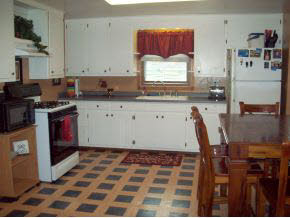 And we are turning it into this!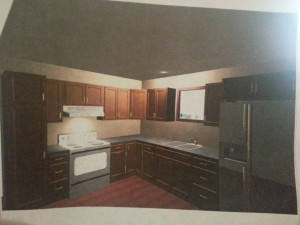 It is going to look beautiful and I cannot wait to get it done and share pictures! I will be blogging through the whole process of demoing the current kitchen and installing the new one!
Until then, I have A LOT of unpacking to do! The cabinets have been ordered and now we just wait.
Anne
Anne Younger is a full-time wife and stay at home mom of 4.....soon to be 5! After spending most of her 20's as a single mom, she met a wonderful man, fell in love, got pregnant, got married and welcomed 2 more children in her life and is currently expecting another! Anne started The Megalomaniac Mommy blog in April 2009 as a way to reach out and connect with other moms and it has become a passion of hers! Anne has been a brand ambassador for many great brands including Crayola, Verizon, Disney and many, many more.

6 Responses to "Goodbye E.A.R.L!"