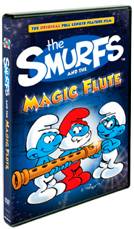 Smurf fans rejoice!
On August 14, 2012, the original full-length animated feature The Smurfs and the Magic Flute will finally debut on DVD for the first time in the U.S. from Fabulous Films. Based on the original comic book story by the same name, this beloved animated movie classic debuted in U.S theaters in 1983 and has remained a fan favorite for more than twenty-five years. Delivering wholesome family entertainment, The Smurfs and the Magic Flute DVD also features bonus content including an image gallery, animated menus, a glossary of Smurf terms, The Smurf Story, a character guide, and an About the Smurfs and the Magic Flute featurette. A must-have for Smurfs fans, collectors, animation enthusiasts and a new generation of kids.
In The Smurfs and the Magic Flute, a magical flute is just what Court Jester Peewit needs to play delightful tunes that make everyone in the kingdom dance — until the dancing turns dangerous. Sir Johan tries in vain to recover the musical instrument, but a thief named McCreep beats him to it, intending to use the flute to steal gold from the King's subjects. It's the Smurfs to the rescue when Papa Smurf devises a plan to create a second magical flute, and Peewit and Sir Johan go on a great adventure to find McCreep, win the musical duel and save the kingdom!
DVD Bonus Content
Image Gallery
Glossary of Smurf terms
The Smurf Story
Character Guide
About The Smurfs and the Magic Flute
Animated Menus
We are BIG fans of the Smurfs!  I started introducing Zman to them when he was a toddler by renting them on VHS and am happy that we are now growing our Smurf video collection on DVD so I can share it with the little ones as well!
Having seen this film as a child myself, I am happy to see it brought back to life!
My little Tatertot just recently began to learn about The Smurfs thanks to the live action film.  Before seeing the little blue men, the only Smurf he knew was his godfather who carries the nickname of Smurf.  For a little while, it was a bit confusing for him but he now understands the difference!
Disclosure:  I received a promotional copy of this film at no cost to me in order to facilitate this review.  All thoughts and opinions are my own.
Anne
Anne Younger is a full-time wife and stay at home mom of 4.....soon to be 5! After spending most of her 20's as a single mom, she met a wonderful man, fell in love, got pregnant, got married and welcomed 2 more children in her life and is currently expecting another! Anne started The Megalomaniac Mommy blog in April 2009 as a way to reach out and connect with other moms and it has become a passion of hers! Anne has been a brand ambassador for many great brands including Crayola, Verizon, Disney and many, many more.