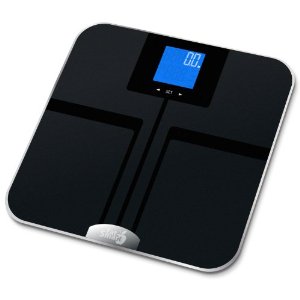 As our family continues to make healthier choices, the Hardworking Hubby and I are on a mission to lost weight. So far, we both seem to be doing good. It order to make sure we are losing weight, we needed a scale that is reliable. We have been through so many scales in the last few years and they all seem to go wonky, the batteries die and cost more than the scale did to replace or they just stop working.
We were on the hunt for a scale that would measure weight, body fat, body water, muscle mass and bone mass. It was also important that it store data for us as well.
The EatSmart Precision GetFit is not your ordinary bathroom scale as it can quickly and easily measure weight, body fat, body water, body muscle and bone mass using ITO BIA technology. This scale is perfect for individuals who are serious about taking control of their health.
We have been using the EatSmart Precision GetFit Digital Body Fat Scale for just over 3 weeks now and we are in love with it!  I love that it recognizes me the minute I step on it and gives me a quick and accurate readout each time.
Connect:
You can connect with EatSmart on:
Facebook
Twitter @EatSmartScales
Pinterest 
Google Plus
Follow the EatSmart Blog
You can enter to win your own EatSmart Precision GetFit Digital Body Fat Scale using the Rafflecopter form below.
**ALL Mandatory Entries MUST be completed in order to be eligible to win.**
a Rafflecopter giveaway

Disclaimer: I received a scale at no cost to me in exchange for my complete and honest review. All thoughts and opinions are my own.
Anne
Anne Younger is a full-time wife and stay at home mom of 4.....soon to be 5! After spending most of her 20's as a single mom, she met a wonderful man, fell in love, got pregnant, got married and welcomed 2 more children in her life and is currently expecting another! Anne started The Megalomaniac Mommy blog in April 2009 as a way to reach out and connect with other moms and it has become a passion of hers! Anne has been a brand ambassador for many great brands including Crayola, Verizon, Disney and many, many more.

117 Responses to "EatSmart Precision GetFit Digital Body Fat Scale Review & #Giveaway – Ends 8/11"