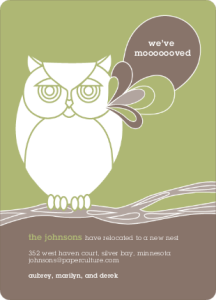 You may have heard in previous posts that we are moving to a new home (less than 2 weeks to go). Since we are finally moving into a house that we can call home, I figured this time we would send out official moving announcements AND eventually throw a housewarming party! So, after searching the internet I finally chose the announcement that made me happy, personalized it and clicked order! I will give you a little sneak peek of the announcements I ordered from Paper Culture. Obviously, these are NOT personalized for us and I also went with a different color.
Not only do I LOVE the design of these announcements but I also love what the website says about them being 100% eco friendly and that Paper Culture will plant a tree with every order to make sure that Owen (the owl) and his owl friends will have a home for many years to come!
When the announcements arrived, I was even more pleased with how great they looked in person and I cannot wait to move and send them out to our friends and family. It looks like we will definitely be looking at Paper Culture when I order birthday invitations  and other party invites in the future!
Disclaimer: I received a free product in exchange for my complete and honest review. All thoughts and opinions are my own. I wrote this post while participating in a blog tour with Global Influence.
Anne
Anne Younger is a full-time wife and stay at home mom of 4.....soon to be 5! After spending most of her 20's as a single mom, she met a wonderful man, fell in love, got pregnant, got married and welcomed 2 more children in her life and is currently expecting another! Anne started The Megalomaniac Mommy blog in April 2009 as a way to reach out and connect with other moms and it has become a passion of hers! Anne has been a brand ambassador for many great brands including Crayola, Verizon, Disney and many, many more.