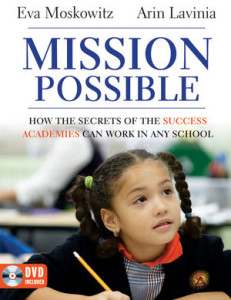 Eva Moskowitz (the founder and CEO of the Success Charter Network in Harlem) and Arin Lavinia offer practical, classroom-tested ideas for dramatically improving teaching and learning. Moskowitz and Lavinia reveal how a charter school in the middle of Harlem, enrolling neighborhood children selected at random, emerged as one of the top schools in New York City and State within three years. The results of the Harlem school were on a par with public schools for gifted students and elite private schools.
Our country treats teaching differently than other professions in that, teachers are often looked down on or thought of as glorified babysitters which in turn lowers the morale among teachers.  In our home, we value each and every one of the teachers who help to educate or children and encourage them to strive for greatness.  I have always felt that to be a good teacher, you need to like kids and enjoy being around them but I have found at times that there is the occasional teacher who greatly dislikes children and therefore resents their job.  We as a whole need to respect teachers and be thankful for all of the time, planning and effort that goes into educating our children.  Teachers spend a lot of personal time working on lesson plans and their own money on supplies.  I wish all teachers could be like the teachers in this book.
Mission Possible tells the story of how a charter school in the middle of Harlem became one of the tops schools in New York City and State is JUST 3 years!  The Success Academies operate under the simple notion that the adults (principals & teachers) hold the keys to achieving educational excellence.
This book offers detailed descriptions on how to keep the students challenged and engaged in learning and how to use the THINK Literacy program.
I found this book to be very interesting and feel that schools across the nation should incorporate these teaching methods into their curriculum as well.  I feel that the THINK Literacy program is something that would be extremely beneficial to some children within our school district, including my own children.
Not only was I fortunate enough to receive this book for review, but I was also provided with a copy to giveaway to one lucky reader!
If you would like to win a copy of Mission Possible, please enter using the Rafflecopter form below.
All mandatory entries must be completed to be eligible to win.
a Rafflecopter giveaway

Disclaimer: I received a copy of this book in order to facilitate this review. All thoughts and opinions are my own.
Anne
Anne Younger is a full-time wife and stay at home mom of 4.....soon to be 5! After spending most of her 20's as a single mom, she met a wonderful man, fell in love, got pregnant, got married and welcomed 2 more children in her life and is currently expecting another! Anne started The Megalomaniac Mommy blog in April 2009 as a way to reach out and connect with other moms and it has become a passion of hers! Anne has been a brand ambassador for many great brands including Crayola, Verizon, Disney and many, many more.

14 Responses to "Mission Possible Book Review & #Giveaway – Ends 8/9"