My poor little Bean has the croup.
It all started with the sniffles, which led to icky running nose and huge green boogies.
And then the barking took over.
I spent a large portion of what should have been my sleeping hours last night in our bathroom with the shower running, sitting in the steam with my little lady.
I think I managed to squeeze in 45 minutes of sleep before the Hardworking Hubby came home and took her for another steam.
From that point I managed to steal another hour of sleep.
After nursing her in our bed, I got up to see this.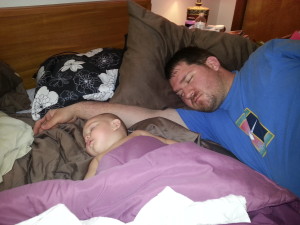 Thankfully she is starting to feel better now and her bark is fading away!
Here's hoping tonight involves sleep and not steam!
Anne
Anne Younger is a full-time wife and stay at home mom of 4.....soon to be 5! After spending most of her 20's as a single mom, she met a wonderful man, fell in love, got pregnant, got married and welcomed 2 more children in her life and is currently expecting another! Anne started The Megalomaniac Mommy blog in April 2009 as a way to reach out and connect with other moms and it has become a passion of hers! Anne has been a brand ambassador for many great brands including Crayola, Verizon, Disney and many, many more.

2 Responses to "Sick Baby"