Today, my little Tatertot went off into the land of big kids.
He started summer school.
Yes, he is 4 and in summer school.
Monday through Friday for the next 4 weeks my little man will be sitting in his Getting Ready for 4K class.
Where has the time gone??


I cannot believe how grown up my little boy is.
Today was a HUGE day for him since he has never really been in a group setting that mom or dad wasn't included in. He is also the first of my children to experience this as both Zman and DramaQueen were in day care from 6 weeks on and remained in day care until I quit working outside the home.
I am happy to report that he LOVED it.
All he talked about from the moment he got home until he went to bed had something to do with school.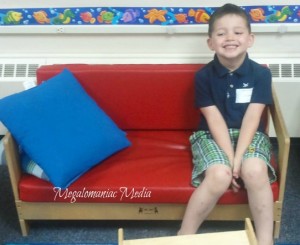 Mommy, they have a play kitchen in my classroom.
Mommy, there are soooooo many toys to play with.
Mommy, my teacher Miss L, she's really nice.
Mommy, I got to have a snack and milk.
Mommy, there is a bathroom in our classroom too!
Everything he told me came out fast and was told with great excitement.
He did make a point to tell me that he got an owie on the playground and Miss L got him a bandaid and he wished I could have been there to kiss it for him and that he missed me.
I have to admit, I missed him as well but it was nice to have some quiet time at home.
In his absence I was able to take a shower for the first time in 4 years that was not interrupted by someone coming in the bathroom, someone crying or someone screaming they needed me.
And, I was not alone in enjoying the quiet.
Bean did something she had been waiting to do for 6 months.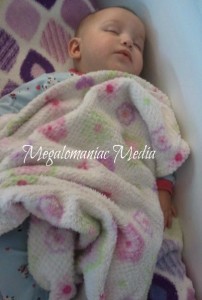 She napped for two undisturbed hours!!
Who knew that a 3 hour break in the morning would be such a great thing?
Tomorrow begins day 2 of summer school and he cannot wait to go and learn more.
I can't wait for him to come home and tell me all about it.
I'm keeping my fingers crossed that he will sing me another new song too!!!
I am so thankful that our district offers 4K and even more thankful that they offer a summer program to prepare him for the fall.
I am also very thankful to the wonderful teachers who dedicate so much time and effort into educating Tatertot, DramaQueen and Zman over the summer.
THANK YOU!!!!!!
If it wasn't for teachers that are so dedicated this summer school program would not exist!
I cannot say thank you enough!!!!
Anne
Anne Younger is a full-time wife and stay at home mom of 4.....soon to be 5! After spending most of her 20's as a single mom, she met a wonderful man, fell in love, got pregnant, got married and welcomed 2 more children in her life and is currently expecting another! Anne started The Megalomaniac Mommy blog in April 2009 as a way to reach out and connect with other moms and it has become a passion of hers! Anne has been a brand ambassador for many great brands including Crayola, Verizon, Disney and many, many more.