Since I became a mom, back in 1999, a lot of things have changed and A LOT of new products have been developed.  Back in 1999 drop-side cribs were still out, bumper pads weren't just a decoration, blankets were okay and when your kid turned 1 you turned their car seat forward facing.
Those were the days.
Now there are no drop side cribs, bumper pads are dangerous and your kid needs to be rear facing in their car seat until at least 2 years of age.  Oh and blankets…..they are a huge no no when your baby is sleeping.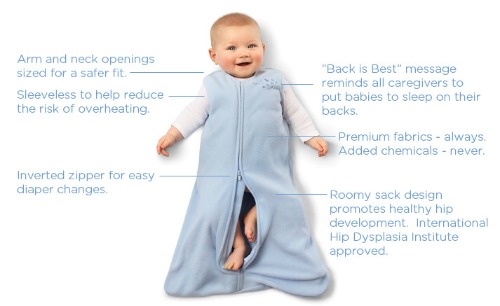 So, how is baby supposed to stay cozy comfy warm and happy?
Meet the Halo SleepSack, a new addition to our family since Miss Bean arrived in December.  It's like a snuggy for babies but BETTER!
Founded by a SIDS dad, HALO's mission is to help all babies sleep safely. The HALO SleepSack wearable blanket is now the #1 choice of hospitals in U.S.
The Halo SleepSack is a wearable blanket that replaces those hazardous blankets that can cover babies face and hinder breathing.  What I love about it…..Bean can't kick it off of her!!
The Halo SleepSack can swaddle your baby and grow as your child grows. I love that it had arm openings whereas other swaddlers do not. Another favorite feature of mine is the inverted zipper making it easier to change Bean's diaper. Another bonus is that the room sack promotes healthy hip development and is approved by the International Hip Dysplasia Institute.
Connect:  You can connect with Halo SleepSack on Facebook, Twitter and Pinterest or visit them online for more information.
We have enjoyed having a Halo SleepSack in our home for Bean (and I tried to take a picture for you so you can see just how cute she is in it but she wouldn't sit still for me to take the picture) that I have arranged for one lucky reader of The Megalomaniac Mommy to win a Halo SleepSack of their own!
You can enter to win your own Halo SleepSack using the Rafflecopter form below.
a Rafflecopter giveaway
Disclosure:  I received a sample product and no cost to me in order to facilitate this review. All opinions are my own.
Anne
Anne Younger is a full-time wife and stay at home mom of 4.....soon to be 5! After spending most of her 20's as a single mom, she met a wonderful man, fell in love, got pregnant, got married and welcomed 2 more children in her life and is currently expecting another! Anne started The Megalomaniac Mommy blog in April 2009 as a way to reach out and connect with other moms and it has become a passion of hers! Anne has been a brand ambassador for many great brands including Crayola, Verizon, Disney and many, many more.

11 Responses to "Halo Sleepsack {Review Giveaway} – Ends 6/15"