One of our favorite foods in this house is pasta.  It is something we all like to eat and is on the menu at least once a week…..if not more. A few years ago when I was preparing dinner, I went to drain a pot of bowling water into a strainer and lost control of the whole pot and water and ended up scalding my stomach very, very badly.    Not only did I end up with a massive burn across my belly, but at the time that it happened I was wearing a air of pants that had elastic in the waist (don't judge) and when the water hit my pants it melted the elastic immediately causing it to bond with my skin and making the situation even worse. ( I just spent 25 minutes trying to find the picture of the burn so you could see just how bad it was but didn't have any luck).
Since that night, I have had a fear that it would happen again and very rarely do you find me over my sink draining a boiling pot of food in water into the strainer.  This is now a task that I prefer to hand off to the Hardworking Hubby.
I am pleased to announce that recently, I conquered my fear, thanks to the Bialetti Pasta Pot.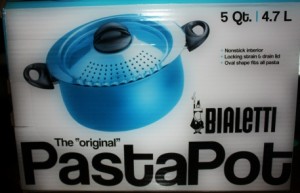 This pot is one of my new favorite kitchen/cooking tools.
First off, it is huge! It is 5 quarts (4.7 liters), has a nonstick interior which means your food won't be sticking to the bottom or sides and it is super easy to clean (I like things that are easy to clean!).  It is also oval in shape so you can fit every type of pasta in it.
Oh and then there is my favorite part……it has a LOCKING STRAIN & DRAIN LID!
Do you know what that means??  It means that when I use this bad boy, I don't have to balance it over a strainer that is sitting in one side of the sink while doing my best not to burn myself.
Now all I have to do put the lid on the pot and lock it, carry it over to the sink, tip it and drain all the hot burny do not hurt me liquids out of it!
Did I mention I also love this pot because it is that beautiful blue cheer color and it meshes very well with my lime green cookware?  It also comes in orange spice, purple passion, and sizzling red.
How would you like to win a Bialetti Pasta Pot of your very own?
We are giving one lucky reader of The Megalomaniac Mommy their own pasta pot in their choice of color (pending availability).
If you would like to enter to win, you can do so using the Rafflecopter form below.
(The form may take a moment to load)
Disclaimer:  I was provided with a pasta pot at no cost to me to facilitate my complete and honest review.  All thoughts and opinions are my own.
Anne
Anne Younger is a full-time wife and stay at home mom of 4.....soon to be 5! After spending most of her 20's as a single mom, she met a wonderful man, fell in love, got pregnant, got married and welcomed 2 more children in her life and is currently expecting another! Anne started The Megalomaniac Mommy blog in April 2009 as a way to reach out and connect with other moms and it has become a passion of hers! Anne has been a brand ambassador for many great brands including Crayola, Verizon, Disney and many, many more.

121 Responses to "Bialetti Pasta Pot {Review & #Giveaway} Ends – 5/16"