Last month, I began my journey with MaxClarity to help fight what seems like never ending acne since being pregnant with Bean.
I have been using the MaxClarity foam acne medication for just over 3 weeks now and am happy to report that I am seeing some positive results!
In the beginning, my skin did have a slight reaction and became rather dry so I eased my use and did a week of every other day use which really seemed to help with the dryness. After the first week, I was able to start using the products every day and my super sensitive skin had nothing but positive reactions!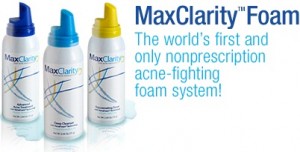 I have noticed that I have not been breaking out as much as I was before and even when I do have a breakout it is nowhere near as bad as it was.
What I really have enjoyed about this product is that it is a foaming kit. I find the foam much easier to work with and don't feel like I am being wasteful at all because it is so easy to see how much you are using.
Another great thing about MaxClarity is that is leaves your skin super soft after using it!
As I mentioned in my first post at the beginning of my journey, I love that Max Clarity has a team, The MaxClarity Difference Team, that is committed to the brand and learning from costumer experiences to help ensure that everyone has a positive experience and that MaxClarity offers their MaxClarity Difference Promise to let you know that are committed to helping you and your skin!
After having a successful 3 weeks using MaxClarity, I do plan to continue to use this product to help improve my skin and will also be introducing it to my tween and teen as well!
You can learn more about MaxClarity by visiting them on the web via their website, Facebook and Twitter
Disclosure: I wrote this review while participating in a blog tour by Mom Central Consulting on behalf of MaxClarity and received a product sample to facilitate my review and a promotional item to thank me for taking the time to participate.
Anne
Anne Younger is a full-time wife and stay at home mom of 4.....soon to be 5! After spending most of her 20's as a single mom, she met a wonderful man, fell in love, got pregnant, got married and welcomed 2 more children in her life and is currently expecting another! Anne started The Megalomaniac Mommy blog in April 2009 as a way to reach out and connect with other moms and it has become a passion of hers! Anne has been a brand ambassador for many great brands including Crayola, Verizon, Disney and many, many more.