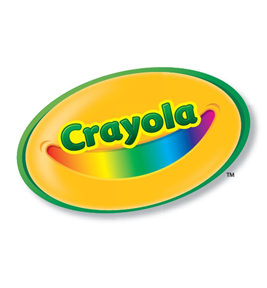 Having a very active and busy 4 year old in our house can definitely be challenging at times. He is constantly on the go and into everything. Not only do we have an active 4 year old in the house, Hardworking Hubby also works 3rd shift meaning he sleeps during the day. A sleeping Hardworking Hubby means that I try to find activities that take the little dude outdoors or keep him quiet…well, as quiet as you can expect a 4 year old to be.
Over the weekend, we were incredibly busy with the Easter holiday and needed something to occupy my little guy while we were busy getting everything else ready. Distracting him was particularly easy this time thanks to his new Crayola Outdoor Bubbles and Bubble Launcher.
He absolutely LOVES these bubbles, the launcher and just how colorful they are!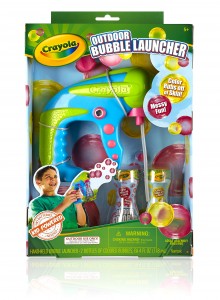 Thankfully I am a mom who encourages messy play because yes, these bubbles, they are messy but the fun makes up for it.
Since they can get messy, make sure to:
**Dress for Mess. Wear washable play clothes and shoes. It's best to not wear suede, leather or any other material that can't be washed.
**Play Outside. An open grassy area is best away from new concrete, decks and porous surfaces like marble. Don't use at formal events like weddings.
**Rub skin to remove color.
**Launder clothes promptly with water and detergent. Repeat washing may be needed.
**Hose off outdoor surfaces like sidewalks and driveways to wash away color.
I was very surprised that Tatertot managed to keep things pretty clean (this is something he rarely does!). He did get a little bit on his skin and thought it was pretty cool he could just rub it away!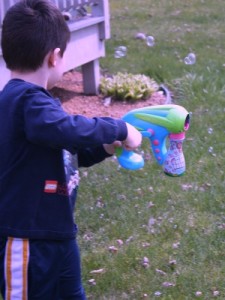 The little man was entertained for quite some time playing with his bubbles outside while Zman supervised and mommy got some work done! His favorite color of bubbles was the fuschia ones because they were soooo bright! You can check out more on these great bubbles on Crayola's YouTube Page.
You can connect with Crayola on their website, Facebook , Twitter and YouTube.
Disclosure: The Crayola Outdoor Colored Bubbles product information and gift packs have been provided by Crayola through MyBlogSpark.
Anne
Anne Younger is a full-time wife and stay at home mom of 4.....soon to be 5! After spending most of her 20's as a single mom, she met a wonderful man, fell in love, got pregnant, got married and welcomed 2 more children in her life and is currently expecting another! Anne started The Megalomaniac Mommy blog in April 2009 as a way to reach out and connect with other moms and it has become a passion of hers! Anne has been a brand ambassador for many great brands including Crayola, Verizon, Disney and many, many more.

63 Responses to "Crayola Outdoor Colored Bubbles"