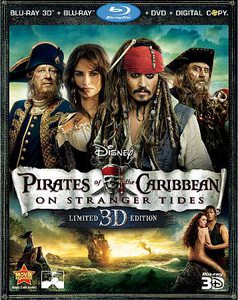 Shortly after the Hardworking Hubby and I began living together back in 2006, he introduced Zman, DramaQueen and I to Jack Sparrow…you know, Johnny Depp in Pirates of the Caribbean.
From the first movie, we were all hooked.
Since the first time we met Jack Sparrow, we have managed to pick up each of the films and add them to our personal collection.
We were recently lucky enough to add the latest film, Pirates of the Caribbean On Stranger Tides to the collection and we were all THRILLED!!!
Last night, we curled up in the living room and finally watched On Stranger Tides.
What can I say?
This movie…..AWESOME!!!
Once again, Johnny Depp did not disappoint and left us wanting more…..which by the way it ended looks like there will be another film down the rode…HAPPY!!
If you haven't seen this film yet, I recommend you watch the trailer here and then run out and get it right away!

Seriously, it is that darn good!
Even the 3 year old got sucked in when he walked past the TV and saw pirates!
After watching the movie, we had some laughs as we watched the Bloopers of the Caribbean and the LEGO Animated Shorts in the bonus features.
For more Pirates fun, check out these awesome activities available for download HERE.
Disclaimer: This promotion was based on using a complimentary product provided by Walt Disney Studios Motion Pictures. Walt Disney Studios Motion Pictures doesn't represent or warrant the accuracy of any statements or product claims made here, nor does it endorse any opinions expressed within this blogsite. The opinions stated from me are 100% mine and they are my true thoughts on this film.
Anne
Anne Younger is a full-time wife and stay at home mom of 4.....soon to be 5! After spending most of her 20's as a single mom, she met a wonderful man, fell in love, got pregnant, got married and welcomed 2 more children in her life and is currently expecting another! Anne started The Megalomaniac Mommy blog in April 2009 as a way to reach out and connect with other moms and it has become a passion of hers! Anne has been a brand ambassador for many great brands including Crayola, Verizon, Disney and many, many more.

One Response to "Pirates of the Caribbean On Stranger Tides Now in stores"