You got it!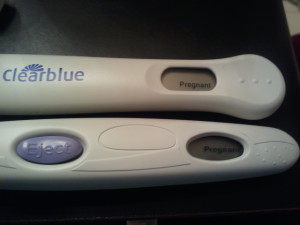 We are expecting!
The latest addition to The Megalomaniac Family is expected to be here in early January!
We are ALL very, very excited and can't wait to share this journey with all of you!
After Tatertot turned 1, we had decided that we weren't going to have any more little ones and sold off ALL of our baby stuff only to have us both change our minds 2 years later.
So, here we are…..starting from scratch all over again.
Basically what I am saying is prepare to see me do some baby shopping!!!
Anne
Anne Younger is a full-time wife and stay at home mom of 4.....soon to be 5! After spending most of her 20's as a single mom, she met a wonderful man, fell in love, got pregnant, got married and welcomed 2 more children in her life and is currently expecting another! Anne started The Megalomaniac Mommy blog in April 2009 as a way to reach out and connect with other moms and it has become a passion of hers! Anne has been a brand ambassador for many great brands including Crayola, Verizon, Disney and many, many more.