Dear Man Who Let Me Get Away Years Ago,
In light of recent events, I think it is only fair, to both you and me that we have an itty bitty chat.
Four and a half years ago, we went our separate ways.
You decided that there was not a place for me in your future (meaning a committed relationship/marriage).
Your decision caused me to stop talking to you and forced me to move on with my life.
And move on, I. DID.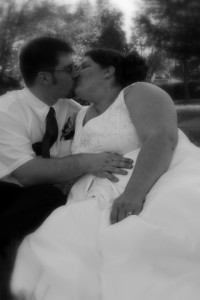 Yep.
I got married.
We had a baby.
I had clearly moved on.
And I thought you had too.
But…..
Clearly, I was mistaken.
Now, now I hear otherwise.
I hear how you regret not saying something to me four and a half years ago.
You tell me that all you wanted was for me to be happy back then and how you didn't think you could make me happy.
I listen to you tell me how back then you didn't see yourself settling down with me and how now you wish you could change that.
Four and a half years ago, you couldn't share your emotions with me and now I've seen more then I needed.
You play it off that you are happy for me when for me it feels like you are waiting for the Hardworking Hubby and I to have our next big fight so you can swoop in and rescue me.
I'm sorry, but you are sadly mistaken.
The Hardworking Hubby and I haven't had a major blowout since right before our wedding 3 years ago.
This sudden need of your's to finally share your thoughts/feelings after all these years has wreaked havoc on me these last few days.
It let some bottled up emotions seep out.
It made me second guess myself.
It made me angry.
Angry with you.
But please note that your willingness to share did not wreak havoc on anyone else in my life.
I shared things with my Hardworking Hubby only to discover just how lucky I really am.
I have a man who understands me.
A man who understands my past.
A man who has accepted me with all of my flaws.
(And we all know there are many!)
But please, don't get me wrong.
It is true.
I loved you in the past.
Once upon a time, you were what I wanted in my future.
And even though these recent events have caused me to reevaluate things in my life, I do thank you for that.
You have made my marriage stronger.
For you, I want you to know that I do love you but these days, it is as your friend.
I wish you the best and I hope that some day you will find your happiness like I have found mine.
Love,
Annie
Anne
Anne Younger is a full-time wife and stay at home mom of 4.....soon to be 5! After spending most of her 20's as a single mom, she met a wonderful man, fell in love, got pregnant, got married and welcomed 2 more children in her life and is currently expecting another! Anne started The Megalomaniac Mommy blog in April 2009 as a way to reach out and connect with other moms and it has become a passion of hers! Anne has been a brand ambassador for many great brands including Crayola, Verizon, Disney and many, many more.

3 Responses to "Open Letter #10"