This past Friday, I found myself sitting in the sweltering hot gymnasium at my children's elementary school.
There I sat with my Dad and the Drama Queen wedged in between us.
We were there to attend my son's 5th Grade Farewell program.
As I sat there listening to the Principal's speech as he flashed back to the year 1999, the year I became a mom, I admit, I did get a little emotional.
How did my baby go from being at his first day of Kindergarten yesterday to graduating from the 5th grade today?
Where did the time go?
June 6th 2005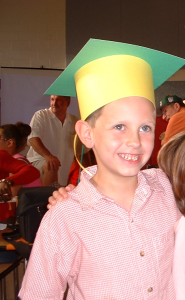 June 4th, 2010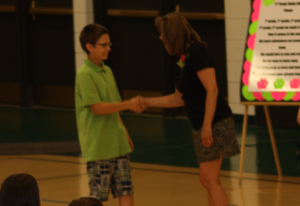 How and when did my little boy go from a kid to a little man?
The time sure has flown by.
As I sat in through the program on Friday, I realized that by the time Tatertot graduates from high school, I could very well be a Grandma.
To more than one grandchild.
Tatertot will graduate in 16 years.
By that time, Zman will be 27.
The Drama Queen will be closing in on 26.
They will both be done with college and moving on with their lives.
Possibly making me a Grandma before my youngest is out of high school.
And to think, we are considering having another child in the next 2 years.
Oy vey!
Finally, I would like to say,
Congratulations to my Zman on his 5th Grade Graduation.
I am proud of you and all you have achieved.
I hope moving on to Middle School this Fall will be an easy transition for you.
I look forward to seeing you grow more everyday.
And to my dear sweet Drama Queen.
Tomorrow marks your last day of 4th grade.
This Fall you will be at the top of the school.
You will rock as a 5th grader.
I am so proud of you and the amazing amount of progress you made throughout this last year.
I can't wait to see what the 5th grade will bring.
I love you both very much and a proud to be your mom.
Love,
Mommy
Anne
Anne Younger is a full-time wife and stay at home mom of 4.....soon to be 5! After spending most of her 20's as a single mom, she met a wonderful man, fell in love, got pregnant, got married and welcomed 2 more children in her life and is currently expecting another! Anne started The Megalomaniac Mommy blog in April 2009 as a way to reach out and connect with other moms and it has become a passion of hers! Anne has been a brand ambassador for many great brands including Crayola, Verizon, Disney and many, many more.

One Response to "Time flies by"